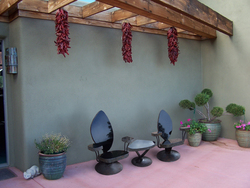 "Imagine: Stone furniture that always looks beautiful, will last a lifetime, and is easy on the Earth. And most of all, the way I make it, it's incredibly comfortable,"
Livermore, CO (PRWEB) July 12, 2010
Two thoughts on the minds of many people today is how to save money and go green. With the economy tightening up people want their hard earned cash to go further and work harder. There is also a concern for the ecology and shrinking our carbon footprint. When it comes to buying outdoor furniture there hasn't been any choices that allow you to stretch your dollar and be kind to Mother Earth at the same time, until now.
Award winning, Stone 2 Furniture artist, Dwayne Cranford, has designed furniture that is economy and ecology focused. The fact is that low quality outdoor furniture will be rotten or broken in 2-3 years unless it is made of high quality, durable, weatherproof materials, which most are not. Dwayne has designed furniture made out of material that is already 200 million years old and combined it with the durability of recycled steel or rust-free aluminum frames for furniture that can withstand all the harsh damaging elements Mother Nature can dish out.
This stone furniture isn't just beautiful and a joy to relax in, it is friendly on the wallet and the planet. Stone furniture is friendly to the wallet because it is a one time purchase. You won't spend money on replacing the furniture every two to three years, in fact, many people come back to add to their collection, and there isn't any expense involved in maintenance. Just take a hose and wash off your furniture from time to time. Stone furniture is also surprisingly comfortable and stylish. In addition environmentally friendly stone furniture won't end up in the landfills; instead it can be handed down as an heirloom for the next generation.
Stone furniture is an investment that will pay dividends for years to come. Because it withstands the elements, it will look just as beautiful in fifty years as it does today. It won't rust, chip, peel or even blow away. Because the furniture is made out of 95% reused and recycled material and is not mass produced using harsh chemicals, it is the choice for those consumers looking for a way to go green without sacrificing style and quality. Be it a bar set, a patio set or even a bench, stone furniture is the last outdoor furniture you will ever have to buy, and that is a beautiful thing.
# # #