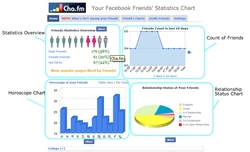 Cha.fm reveals all the interesting facts and statistics about your Facebook friends, which you probably didn't already know.
Hong Kong (PRWEB) July 23, 2010
Cha.fm has announced the official release of their Facebook application, Cha.fm Friends Statistics. The app is part fun and part useful. It provides users an easy-to use platform to analyze their Facebook friends' data, while at the same time, allows users to control whether the chart should be published and made publicly viewable.
Cha.fm gives Facebook users up to date information on:
-A graphical overview of all connected Facebook friends including their horoscope, gender, relationship status, age, location, school, and more
-A line chart showing the growth of connected Facebook friends
-What page is most popular, or liked among all Facebook friends (in more than 40 categories)
The friends' statistics app will analyze an user's Facebook friends list and display the percentage values of friends who are single, married, or in a relationship. The app also displays the proportion of male and female users, their horoscopes, as well as their locations, college, and affiliation. Information can be visualized using colorful graphics or in tabular format, with full control over which statistics are shown on your profile by only a click of mouse on the editing page.
'Cha.fm combines the concept of friends analysis, social networking in one user-friendly and interesting platform,' said Godfrey Ko, co-founder of Cha.fm. 'Apart from checking your friends' statistics, there is a section 'What's HOT among your friends' revealing what your friends 'like' across the Facebook, no matter it is a breaking news headline, a game or even a movie star, which is a great way to discover common interest of your friends. For instance, 11 friends like 'Restaurant City' game according to your Facebook chart, implying that some of your friends find this game funny and you can have a try of the game in order to have more chit-chat topics when meeting your friends. The app keeps you updated with current important issues and interesting topics concerning your community in Facebook.' Ko added.
In light of privacy issues, the 'settings' option let users choose whether to 'auto Publish news feed to your wall', 'allow your friends to view your charts' and 'allow your friends to view detail information of your charts'. You can also invite your Facebook friends to try the application as well.
About Cha.fm: Cha.fm is an Internet start-up established in Hong Kong since 2009, focusing on the development of custom Facebook application to cater for the growing demand of business and marketing tools on the Facebook platform.  Contact us for more details.
# # #