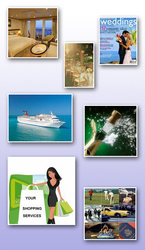 Allow your consciousness to become a positive and remove all the negatives. For when you think you can you will and when you think you can't you won't! The only curb ball that is thrown your way is the one you subconsciously allow in. Be Blessed
Crescent, GA (PRWEB) July 11, 2010
MSX Vip Concierge the virtual concierge and virtual party planner takeover. Virtual services have taken over in providing services via the internet. There's no longer an overhead to pay when utilizing the virtual concierge. That's why MSX VIP Concierge is announcing the one stop shop Virtual Business Event Planner - Party Planner - Special Event Planner - Concierge Services and Wedding planning services. As you know it can be very difficult when planning events or finding great help to assist in everyday lives. At MSX Vip Concierge there is a overflowing list of services. Now anyone can be burden and stress free!
MSX VIP Concierge the company who first vocation love is planning events - parties - reunions and special events of all kinds and giving tips on how to handle the little things that might pop up. The virtual staff can understand the brain and how it works when planning those fabulous events such as a wedding, because when getting married the fiancée most likely been dreaming about being a bride since she was a little girl and the wedding divas http://www.theweddingdivas.net have connection to the world's best couture designer of all time who can design the most gorgeous couture bridal gown - dresses and any kind of outfits from scratch. We love introducing great companies to the world.
Can a company work virtually successfully? Yes - everything can be virtually done successfully from the researching - planning -creating and making sure everything a person want and need is at their service. How does it work? You go to http://www.theweddingdivas.net and you tell them what you looking for and that's it. Even choosing the wedding-day transportation, whether it's traditional limousines, classic cars, stretch, rolls Royce, a horse or a carriage ride can virtually be done. Now that's what you call a virtual business everything in one place.
Also when someone is getting married and the reception shuts down (all too early, in most cases), grab your bridal party, family and closest friends for another more private, laid-back celebration at a different location which virtually can be found and set up as well.
Did you say you need a ballroom or help in selecting the ceremonies and reception sites? No worries! MSX Vip Concierge is the virtual assistance helper in providing memorable events. Virtual businesses can also offer great honeymoon packages - cruises - fundraising cruises - great resources and wedding ideas.
What are some of the things a virtual concierge can offer? MSX Vip Concierge http://www.msxvipconcierge.com virtual service can offer telephone service for a business - set reservations - set appointments - book trips - book cruises- make floral arrangements and virtually can assist with help needed in personal or business life chores.
MSX Vip Concierge have connections to great caterers for any event. There's no event to small or to big! The virtual service is the way to help make life a lot easier for everyone. Whether you need to plan something - find reservations - have a telephone answering service - a stylist - photographer - dj - book transportation - press party - family reunion - kids party - backyard party - the After-Party or business luncheon - the virtual concierge is the way to go. click http://www.msxvipconcierge.com for more on the virtual concierge assistance.
MSX Vip Concierge would also like to introduce Sexy Vintage a independent representative for Ardyss International with a great informational site for losing 2-3 inches without exercising - diets - pills or surgery. One of the best things ever http://www.sexyvintage.net will give you the information which is for both women and men. Look like a million without the hard work.
# # #