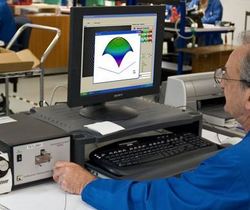 Our fiber optic interferometer and state-of-the-art automated fiber termination cleaning equipment gives us confidence that our customers can rely on Trek Connect meeting or exceeding their performance requirements.
Moorestown, NJ (PRWEB) July 18, 2010
Trek Connect designs and manufactures custom military cable assemblies, military wire harness assemblies, ruggedized fiber optic interconnection junction box solutions, NTDS data switching, systems and custom-designed connector and interconnect solutions, for use in harsh environments for aerospace, naval surface and submarine, and military ground vehicle applications. Trek Connect products are also used in audio/broadcast, commercial, industrial, medical and telecommunications industries. Typical applications include power distribution, RF signal, fiber optic light transmission, data transmission, communication and grounding circuits.
Trek Connect technicians are trained and certified to perform military fiber optic terminations in accordance with rigorous military standards, including MIL-STD-2042B.
Fiber termination processes are verified using a state-of-the-art interferometer, which generates a 3D image detailing the measured radius of curvature, offset, and fiber height, each a critical end-face geometry factor in achieving optimum light transmission on critical fiber optic paths.
Using high quality interconnect components including MIL-PRF-28876, MIL-PRF-29504, MIL-DTL-38999, MIL-C-83522, and MIL-PRF-85045 fiber cable, in a military cable assembly application combined with Trek Connect's trained, certified and experienced staff insures customers a high degree of confidence in its fiber optic military cable assemblies.
Trek Connect military cable assemblies have been battlefield-proven in some of the most demanding sea, air, and land-based environments, including Seawolf and Virginia Class Submarines, DDG Destroyers, the new Zumwalt Class DDG-1000 Destroyer, CV Aircraft Carriers and CG Cruisers, USCG National Security Cutters, U.S. Army EQ-36 Counterfire Target Acquisition Radar and DVE-FOS Driver Vision Enhanced program.
Trek Connect's engineering team has over 50 years combined experience focused on the design and specification of military cable assemblies and military wire harnesses for defense applications.
Trek Connect's quality management system is AS9100B-certified. All Trek Connect assembly technicians are trained and certified to the IPC/WHMA-620A - Requirements and Acceptance for Cable and Wire Harness Assemblies standard.
# # #