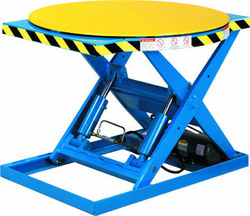 Waukesha, WI (PRWEB) July 14, 2010
The Roto-Max by Lift Products Inc provides the ultimate experience in work postioners. The 6.5" lowered height is the stand out feature of the Roto-Max rotating lift table; it is one of the lowest in the industry for a table with built in power units. The lowered height helps reduce the operators lift requirement for placing the top layer of product on the pallet. The raised height lifts to 32.5" plus the pallet, bringing the pallet height to 37.5". This height is ideally suited for most applications.
The Roto-Max lift table offers a 43" diameter 360° rotating top, giving the operator access to the product without having to stretch or walk around the pallet. In addition to the ideal height and rotation features the Roto-Max also offers quick speeds of 10, 15, and 18 seconds. The 2,500lb (RTMX-25HS) and 3,000lb (RTMX-30) capacities have high performance electric 1-1/2 hp motors and run on a standard 20 amp 115 volt single phase circuit.
The Roto-Max is also available in a semi-stainless steel edition featuring a stainless steel round top, base frame, scissor arms and bearings as well as a water proof lift limit switch and water resistant remote power unit. The RTMX-SS is perfect for wash down applications in the food, beverage and pharmaceutical industries.
The Roto-Max scissor lift was designed from the ground up with the operator in mind. It allows complete flexibility to do the ergonomically safest job with maximum efficiency. For more information visit http://www.liftproducts.com.
# # #