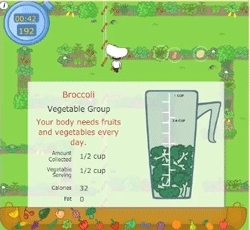 Reaching out to kids with positive healthy messaging combined with an engaging fun game is a key strategy in fighting childhood obesity.
San Mateo, CA (PRWEB) July 15, 2010
Michelle Obama is challenging the nation to fight childhood obesity with the Apps for Healthy Kids Contest, looking for creative, fun games and tools to promote healthy living to children . Web based company, Nourish Interactive, Inc has stepped up to the challenge with four nutrition game entries designed to teach children the importance of making healthy food choices.
The Apps for Healthy Kids Initiative is part of the "Let's Move" campaign launched earlier this year. With a growing population of overweight children facing diabetes, heart disease and a shorter lifespan, Michelle Obama has made childhood obesity a national priority. Finding creative ways to use technology to engage children and help them understand the importance of healthy eating and exercise is a key strategy. All game entries had to incorporate the newly released food database.
Nourish Interactive Inc has submitted four unique online nutrition games in the contest. These games were developed by nurses, and dietitians who have experience working with families and children. All four game entries are based on the USDA guidelines and target children between the ages of six and twelve years old.
¢ Healthy Harvest Maze: a game that tasks children to find fruits and vegetables in a farm while maneuvering through a maze all the while learning healthy facts about fruits and vegetables
¢ Ride the Food Label: a game that teaches children how to read and use food labels in a game show setting
¢ Kevin's Build a Meal: a meal planner game where kids are challenged to make customized meals based on the USDA guidelines using foods found in a virtual kitchen, school cafeteria and grocery store
¢ Chef Solus and the Food Pyramid Adventure: a seven level video game where kids explore the food pyramid and learn about the food groups, balanced meals and the relationship between calories and exercise
"We are proud of our work and continued commitment to fighting childhood obesity. Creating fun, online games is a very effective way to promote healthy eating to children," said founder and president of Nourish Interactive, Margaret LaBarbera, RN MBA.
The contest begins July 14 and will run through August 14, 2010. The general public is encouraged to visit http://www.AppsforHealthyKids.com to vote for their favorite games and tools. Public votes will determine the winner of the Popular Choice Award. Additional prizes will also be awarded based on the evaluation from a panel of judges.
AboutNourish Interactive, Inc
Nourish Interactive, Inc has been fighting childhood obesity and promoting nutrition in a positive way using free interactive nutrition games and tools since its launch. It has created an effective online learning experience that coordinates nutrition information for children, parents and educators, with the belief that prevention is the best treatment. Nourish Interactive has developed a learning platform in English and Spanish that comes to life with its interactive online games that offers fun, innovative ways to empower children to make healthy choices. Founded by a nurse who is passionate about promoting health to kids in a positive way.
# # #