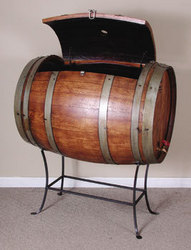 Not only do we want to offer an eclectic selection of Eco-friendly items, but we believe in getting items to customers in a timely manner and without any inflated handling charges. That's why we offer free shipping in the continental United States.
Lake Jackson, TX (PRWEB) July 6, 2010
Going Green is defined three ways…Reduce – Reuse – Recycle. What better way to help the environment than by closing the loop and purchasing products made from recycled products? Save the planet by reducing the amount of items that end up in landfills.
The motto for GreenProductsandGifts.com is Green Giving – Green Living. When the website was launched, the goal was to find people in the USA that made creative things out of everyday and specialty materials. This in part would help the environment by reducing the amount of substance put in landfills. "We have found a number of American artists and we are dedicated to working directly with them to bring you the best handcrafted recycled goods. These items are made from recycled products right here in the USA!" states Lance Sterling, co-owner of GreenProductsandGifts.com.
Choose from a full selection of green furniture and decor, Eco jewelry and even pet products. These stunning green products make it easy to recycle!
Show the world Eco Fashion Passion by wearing recycled jewelry created from scrabble tiles, recycled silverware and recycled glass.
Beautiful recycled furniture and decor hand-crafted from wine barrels, stunning Tokay grapevines, water and snow skis, golf clubs, silverware and recycled plastic are a great way to accent any home or patio.
Eco apparel includes a nice selection of Organic t-shirts, Recycled Purses and Reusable Shopping Bags.
Elegant cheese platters, festive drinking glasses, lanterns and wind chimes produced from recycled wine bottles are just a few of the Eco friendly gifts at GreenProductsandGifts.com.
Pet products made from recycled wine barrels, wine boxes, garden tools, bicycle and car parts allow pets to share an earth friendly philosophy. What better way to spoil a best friend than with a little elegance and style?
"Not only do we want to offer an eclectic selection of Eco-friendly items, but we believe in getting items to customers in a timely manner and without any inflated handling charges. That's why we offer free shipping in the continental United States." Sterling says. "Some of our items qualify for express, priority or international shipping."
###