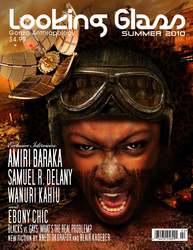 We're completely devoted to print, and we believe it's the best way to serve our readers.
New York (PRWEB) July 9, 2010
Looking Glass Magazine, since 2007, the quarterly "Gonzo Anthropology" journal launches its Black Issue this summer along with new online features.
The new issue provocatively features Blacks vs. Gays: What's the Real Problem? on the cover. The article, by David Shankbone, takes an objective look into new research and asks what lies at the foundation of American's "culture-wars." Also included is an "anthropology of fashion" report detailing the history of the black dandy, an original comic book art and fiction from N. Steven Harris, and a featured exclusive interview with poet Amiri Baraka. (Veteran sound engineer Arya Sundar produced the video, which appears on the website.)
"It's not an attempt at controversy, we're just doing what we always do," said editor in chief Michael Merriam. "We're getting to the bottom of something in our culture."
Merriam is no stranger to controversy. Last year, he crossed swords with HBO's publicity department over an interview in which Bored to Death writer Jonathan Ames was tied to a chair and interrogated by dominatrix JoYin Shih as a feature for the magazine. HBO refused to allow Looking Glass to print photographs of the event.
Merriam denies that there was any real conflict. "They didn't want us to use photos, so we didn't, but we didn't compromise the text at all. Ames had a great time, Yin had a great time, we ran a terrific interview. That's all."
Merriam created Looking Glass in 2007 as a pet-project as he worked on various magazines (he's a former editor in chief of Time Out Istanbul). Looking Glass spiraled into its print and digital form in 2008 following a New Yorker Talk of the Town profile of Merriam's work in digital publishing and the launch of a fashion magazine for the iPhone.
Looking Glass Magazine was initially conceived to contain twelve sections. "We wanted to laser in – find ultra-niche counter-cultural content," says Merriam. Though the traditional model of print magazine publishing is rapidly changing, Merriam contends there are no plans to abandon the print edition. "On the contrary, we're always expanding it. Jay Kristopher Huddy creates an extraordinary visual experience out of it, and the magazine just keeps getting more intense every quarter," he said. "We're completely devoted to print, and we believe it's the best way to serve our readers."
Online, at http://www.lookingglassmagazine.com, two new sections appear this month: a sports section and a science fiction section. The Playing Field is edited by ESPN's Eno Sarris, who also writes for FanGraphis, Bloomberg Sports and RotoWorld. "The tagline for this blog is 'the anthropology of sports,' and it's a good way to sum this thing up," said Sarris about the new blog's in-depth, brainy, and sophisticated perspective on athletic culture.
The science fiction section, a blog called The Observatory, features new fiction by Blair Kroeber and by award-winning author Nnedi Okorafor, as well as an exclusive interview with Samuel R. Delany. The magazine also will encourage writers to submit stories and pay them SFWA minimum or higher for original fiction.
Publisher Paul Nowak, who is also a video game designer, has his own take on Looking Glass and its journalistic mission. "We think of our readers as users and culture hackers.
Issues of LGM are like cultural strategy guides. It makes sense. Video games use context to heighten the sense of importance around certain objects--that's what we do for our advertisers."
The print edition can be purchased throughout the United States at the $4.99 price point, and will be available at San Diego Comic Con. Archives can be viewed at http://www.lookingglassmagazine.com
###