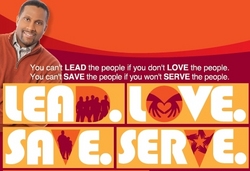 "You can't lead the people if you don't love the people. You can't save the people if you won't serve the people."
Los Angeles, CA (PRWEB) July 15, 2010
The Tavis Smiley Foundation is inviting young leaders to register for its annual Leadership Institute and join an effort to raise awareness about getting active to prevent youth obesity.
Under the theme, Never Too Young to Change the World, the conference will assemble youth for advocacy training, networking, preparing for college, entrepreneurship and project planning Aug. 19-23 on the campus of UCLA.
Speakers include Tavis Smiley, Dr. Anthony Samad, author and political science professor at East Los Angeles College; Connie Rice, founder of the Advancement Project.
Acclaimed writer and director, Antwone Fisher, will discuss his new book, A Boy Should Know How to Tie a Tie; and Erica Campbell of the Grammy-winning gospel duo, Mary Mary, will share life lessons from their April release, Be U: Be Honest, Be Beautiful, Be Intentional, Be Strong, Be You!
The objective of the Institute is to help young people learn to think critically for themselves and encourage civic engagement. Sessions will include topics such as goal-setting and decision-making, team building activities, and a community service project. Delegates will have a chance to compete for start-up seed funding to start a youth-led business or community service program.
Smiley will moderate a teen town hall meeting on the future of youth leadership against the backdrop of economic and social indicators that show a significant slide in areas that directly impact teens.
A study by Brandeis University shows the wealth gap between white and African American families has more than quadrupled over the last 23 years, resulting in fewer opportunities for the building blocks of wealth that include home ownership and access to a college education.
Additionally, research shows an African American male born in 2001 has a 1 in 3 chance of going to prison in his lifetime; a Latino boy a 1 in 6 chance; and a white boy a 1 in 17 chance. And, one out of eight African American children are uninsured.
"Ironically, this year as we observe the 50th anniversary of the founding of the Student Non-Violent Coordinating Committee (SNCC) which was at the helm of progress for young people during the Civil Rights Movement, we are now looking at rapid disintegration in education, juvenile justice and economic parity," Smiley said.
"What now is the role of young leaders who have been at the forefront of nearly every social movement in stemming this current tide and what is the role of the adults who support the training of future leaders?"
Even given the challenges facing youth overall, during the last 10 years of the Institute program, more than 90 percent of its alumni complete high school and enter college. Other success stories include youth who have returned home inspired to start nonprofits, organize health fairs and forums – all to address teen issues.
Regarding youth and health issues, this year's program will include a session on youth obesity prevention to coincide with the foundation's Walk Like a Leader Campaign. Since May, the foundation staff and 100 supporters nationwide have pledged to collectively walk 5,000 miles in their communities by Aug. 16 to show their commitment to a healthy lifestyle that includes regular exercise. To date, the team is more than halfway to its goal with 3,500 miles.
Major funding for the Leadership Institute is provided by Coca-Cola and ExxonMobil.
The Leadership Institute is targeted to teens, ages 13-18. However, special sessions will be held for Institute alumni and young adults, ages 19-21.
The cost is $600 and includes meals, dormitory housing, workshops, and ground transportation in Los Angeles. The deadline is July 31. For information and to register, call 323-290-1888 or visit http://www.youthtoleaders.org and http://www.etouches.com/2010LeadershipInstitute.
# # #