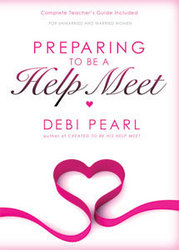 Debi has done it again; this book is loaded with great topics for discussion! Single girls and married ladies: add it to your Bible study or classes. I'm married and I absolutely loved it! Mothers, take time to read this book. It's a great way to connect.
Centerville, TN (PRWEB) July 7, 2010
Preparing To Be A Help Meet by Debi Pearl was released on April 9th and became an Amazon Best Seller just 34 days later. On May 13, 2010 it ranked #94 and on May 14, it reached #86. Amazon, the world's largest on line book retailer offers over 7.8 million titles on its website. To be rated as a best seller, a book has to rank in the Top 100 in total sales over a 24 hour period.
Sales were so strong at online retailers and bookstores that a second printing had to be ordered just weeks after the first printing of 20,000 books.
The Unfolding of Preparing To Be A Help Meet.
A gathering of young women, married and unmarried, met to discuss marriage. As they continued to meet they shared what they had learned from the Bible, other books on marriage, older women and their own experiences. One of the books, Created To Be His Help Meet by Debi Pearl, was at the center of much of their discussion.
Debi Pearl saw the need to help young women to prepare to be the help meet that God created them to be. Created had focused on married women wanting to improve an already good marriage or fix a bad marriage. Created was well received having sold over 400,000 copies in 12 languages and is generating thousands of letters and emails from grateful wives and husbands as well. Many commented that they wished they had known the information in Created before they got married. Some gave their own stories of how radically their marriages had been improved by the book. Others had questions regarding their own experiences.
Hundreds of married women have read Preparing as a safe guard before allowing their daughters to read the book. Many of them have since contacted the Publisher stating, "I wish I had read the book before I got married, and I learned as much from this book as I did when I read Created To Be A Help Meet."
Debi combined what she had learned from the responses to Created and what the young women were learning in their study to write Preparing To Be A Help Meet. With input from these young women Preparing is written from the perspective of the expectations of marriage and the woman's responsibility in being prepared for the reality of achieving and surpassing those expectations.
Debi also interviewed several young men adding a much needed male perspective that is lacking in many books for women on the subject of marriage. Their comment's are placed throughout the book and then provided with a whole chapter.
The comments are listed according the three personality types of men. These three types Prophet/Visionary, Priest/Steady and King/Command are described in great detail in the book. She also describes the three personality types of women, Dreamers, Servants and Go to Gals. Debi then gives the combinations that work best in a marriage.
Throughout the book she gives real life examples and answers real questions from young women that are serious about preparing for marriage. Preparing To Be A Help Meet contains six sweet love stories written by wives sharing their experiences about how God taught them to be the help meets they are today. Three of the stories are from wives that have been married over 40 years. Three stories are by new brides who, before marriage, were trained to be the help meet God intended. All the love stories are beautiful, and will show you how wonderful it is to walk together in God's light.
Preparing also contains a few sobering stories to offer as a warning for young ladies to stay away from specific attitudes and actions that will ruin a marriage.
The book includes a Complete Teacher's Guide making it an excellent resource for Sunday School or group studies.
In a day and age of failed marriages, many failures can be attributed to a lack of preparation; Preparing To Be A Help Meet by Debi Pearl presents the necessary information to be prepared for a marriage that can and should be glorious.
From the back cover of the book:
I can think of nothing I want more than someone to truly love me.
You spend your time pining away for your one true love and suddenly…you're married and it's a lot more than you bargained for. Now is the hour you should be preparing to be a wife----to be a help meet.
A good marriage starts long before the wedding.
Preparing To Be A Help Meet by Debi Pearl was released April 9, 2010 and is already an Amazon Best Seller having reached the Amazon Top 100 twice. Published by No Greater Joy Ministries, Inc.
ABOUT THE AUTHOR
Debi and her husband, Michael Pearl, are international best-selling authors. Their books have sold over 2 million copies and have been translated into over 30 languages. They author a free bi-monthly magazine called No Greater Joy which explores child training, marriage, Bible teaching, and natural remedies. You are invited to visit them at http://www.nogreaterjoy.org and http://www.debipearl.com.
# # #