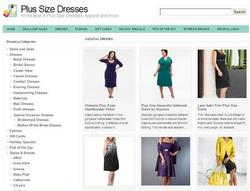 Finding the right dress that fits great is not easy. We've changed the way plus size women shop for dresses by helping them find dress that will match their bodies and personalities
West Bloomfield, MI (PRWEB) July 12, 2010
WomenPlusDresses.com has a new look making it an exclusive destination for plus size women to stay in style and look feminine and fabulous for every occasion. To keep up with the new customer demands and business model WomenPlusDresses.com has redesigned website. New website delivers a more robust experience and focuses on the needs of the customer. Buying plus size fashions and getting all the latest styles has never been easier. With all retailers specialized in plus size clothing in one place women have more choices to get latest fashions and save money at the same time. Site features stores and designers that support plus size women by offering clothing that complements their beauty and adds confidence and sophistication.
WomenPlusDresses.com is dedicated to bringing plus size women a variety of fashion choices and brands. Featuring well known names in plus size fashion including Avenue, Roamans, Ulla Popken, Alfani, Coldwater Creek, Lane Bryant, Fashion Bug, Catherines, Torrid, Kiyonna, Silhouettes and many more. Offered collections are manufactured with the highest quality fabrics and reflect the latest trends in fashion.
Plus size women are offered same fashion choices as women in regular sizes. Whether a woman is looking for a cocktail dress to go to the party, wedding or family gathering, she can find stylish clothing in her size at WomenPlusDresses.com. To make shopping easy, clothing is organized by categories and brands.
"Finding the right dress that fits great is not easy. We've changed the way plus size women shop for dresses by helping them find dress that will match their bodies and personalities," said Lana lembersky, Founder of WomenPlusDresses.com. Plus size women can choose from a wide selection of styles from department and specialized stores.
This is a place where curvy women can find latest fashions in a variety of colors and fabrics,. Offered products include plus size evening dresses, cocktail dresses, maxi dresses, casual dresses, special occasion dresses, career dresses and beautiful outfits.
Great style doesn't have to be expensive. WomenPlusDresses.com offer great-looking, trendy styles designed for women sizes 14 and up at affordable prices. Looking fabulous is made easy with special deals and promotions.
Shopping at WomenPlusDresses.com helps full figured women get the most for their money from top retailers across the nation. Women of all ages can get access to high quality products and below retail prices, We are constantly adding new products and web exclusives.
Our mission is to offer clothes that enable plus size women to rediscover their beauty, feel fabulous and confident. Catering to all women's plus size clothing needs is our specialty
About WomenPlusDresses.com
WomenPlusDresses.com offers large selection of women's apparel, accessories and products for women sizes 14 and up. With many famous brands in one convenient shopping destination, WomenPlusDresses.com features classy cocktail, evening and casual dresses, career wear, trendy tops and bottoms, intimates, accessories and more, at affordable prices from great brands such as Lane Bryant, Catherines, Fashion Bug, Avenue, Ulla Popken, Kiyonna, and more. WomenPlusDresses.com is a wholly owned subsidiary of Effective Professional Solutions, LLC. For more information visit womenplusdresses.com
###