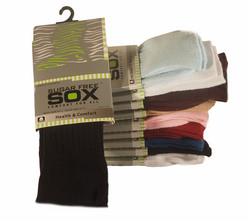 Our mission was to develop a fun, fashionable and functional non-binding top sock. We wanted socks that had a style that could compare to any high end department store brand. What has resulted is a very loyal repeat customer and a unique product offering
San Diego, CA (PRWEB) July 1, 2010
When seeking a non-binding top or diabetic sock you want comfort, but not many good looking fashionable socks are available that work well in this category. Fashion is often forgone for comfort, this is due to how socks are typically woven and the knitting machines used to manufacture the goods. Sugar Free Sox has developed knitting techniques that brings fashion to the diabetic sock world.
The challenge for manufactures has been that the knitting machines used for sock production are not able to support three key factors to produce a high quality diabetic sock. These machines are not able to knit a sock with no elastic in the top, create a seam free toe and a high knit count for aesthetics. The knitting process occurs all on one machine.
Sugar Free Sox overcame the limits of the machines through innovative knitting techniques and the choice of materials. The socks are 80% cotton, 17% spandex and 3% nylon, this special blend allows the material stretch much further than normal socks and to shrink back to shape in the wash. The socks conform to the leg while the spandex and nylon hold the socks up. Sugar Free Sox President Gary Meade said, "Our mission was to develop a fun, fashionable and functional non-binding top sock. We wanted socks that had a style that could compare to any high end department store brand. What has resulted is a very loyal repeat customer and a unique product offering in the market."
Sugar Free Sox manufacturing achievement provides a premium product in a niche, but ever growing category of non-binding top socks. You can learn more on the benefits of a non-binding sock on their website or purchase these comfy socks for yourself at http://www.sugarfreesox.com or call 858.481.7691.
###