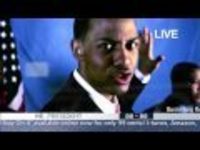 "This video captures both the good and bad. Which is realistic…we cannot have one without the other."
Dallas, TX (PRWEB) July 1, 2010
Within seconds of hearing "Presidential" stream through music speakers, it's apparent popular Dallas, Texas hip-hop artist Reggie G has taken his reputation for pushing stereotypes to another level. Featuring images of Tiger Woods, President Obama, and seductive sports agents, the single's just-released video has sparked challenging conversation amongst music fans and Internet chat rooms. The follow-up to "I Stay On It" featuring Grammy-Award winning rapper Chamillionaire, "Presidential" is the second single from Reggie G's upcoming album Reggie Who (Mastaminds Entertainment).
Gritty and unafraid, Reggie G's "Presidential" is based on the rapper and Professor of Economics' past and future experiences of breaking into the music industry while maintaining an education and having dreams of being iconic. The song was written by Reggie G and co-produced by Ensayne Wayne and Corbin Corona.
Reggie G re-united with director Antonio Zamarripa ("Whatever Kind You Like") to helm a character driven video to match his strong lyrics. Opening with a conversation between Reggie G and a local Dallas DJ, the audience sees where the hip-hop artist is today as the camera transitions with the lyrics into Reggie G's past – and a statement that is telling of today's youth. Lyrics are illustrated by Reggie G as a basketball player and student tempted by fast money; a dream sequence as President Barack Obama; a neighborhood bum; and portrayal of Tiger Woods as a symbol of success and arguable hypocrisy.
"Most teenagers at one point in their lives have watched or seen someone on television they admired, and envisioned themselves in their shoes," Reggie G explained. "This video captures both the good and bad. Which is realistic…we cannot have one without the other."
"I am shocked that we have already had such an amazing reaction to the single on our website. 'Presidential' was an intense track to make, and people can obviously feel the positive vibe from it," said Reggie G.
Video for "Presidential" was shot at Southern Methodist University and Paul Quinn College. The full album, Reggie Who, is slated for release this summer, with promotional tour to follow.
"(Reggie G) is one artist that is going to release hit after hit after hit," predicts Terry Renfrow, former Manager of Artist Development for Universal Music Group in Dallas and current Marketing Director for "Reggie Who?". "And 2010 is (already) a changing year for the music scene in Dallas, Texas."
Holding a Masters Degree in Economics, Reggie leads by example, teaching macro- and micro-economics at Paul Quinn and Navarro Colleges in Dallas. As an artist, his music has been hard on such popular network programs as CSI and The Forgotten. "I Stay On It" is currently on radio rotation and steadily climbing the Billboard and Independent Music Charts.
"Presidential" is now available for download at iTunes, Rhapsody, Amazon, Zune, and mastamindslive.com.
http://www.youtube.com/user/ReggieGMusic
http://www.facebook.com/reggiegmusic
http://www.myspace.com/reggieglive
http://twitter.com/Reggieglive
CONTACT
Tasha G.
Mastaminds Entertainment LLC
(214) 228-6093
Reggieglive(at)mastamindslive(dot)com
###