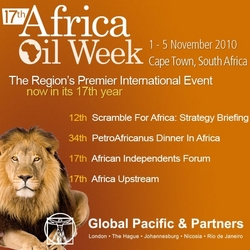 Africa's Premier International Event
(PRWEB) June 28, 2010
Overview: The 17th Annual Africa Oil Week 2010 is the world's largest and most significant exploration and development event on Africa for the global oil exploration and gas-LNG industry Calendar, with key African Government decision-makers, State and National Oil Company delegations, with senior oil executives drawn from across the African oil and gas value chain. This is the global event par excellence, consistently acclaimed on the industry's international calendar. As the premier management event in and for the African Continent, Africa Oil Week stands apart as the foremost deal making environment for the African exploration business.
With 650+ attendees annually including high-level senior officals from: Angola, Australia, Brazil, Burundi, Cameroon, Canada, China, DRC, Cote d'Ivoire, Egypt, Equatorial Guinea, Ethiopia, Eritrea, France, Gabon, Gambia, Germany, Ghana, Guinea-Bissau, Guinea, India, Indonesia, Italy, Japan, Kenya, Kuwait, Japan, Madagascar, Mauritania, Mali, Malaysia, Mocambique, Namibia, Netherlands, Niger, Nigeria, Norway, Poland, Portugal, Russia, Senegal, Seychelles, South Africa, Spain, Sudan, Switerzland, Tanzania, Turkey, Uganda, UAE, United Kingdom, USA, Venezuela
Special Feature: Gabon Roadshow: 10th Licensing Round: Hosted by DGH Gabon & CGGVeritas at 17th Africa Oil Week 2010
Exhibition almost fully subscribed:
contact sonika(at)glopac-partners(dot)com to reserve space
Sponsor Opportunities: to join as a Sponsor contact amanda(at)glopac-partners(dot)com
We hope to see you in Cape Town in November.
Confirmed Speakers Include
Fafa Sanyang Commissioner for Petroleum, The Gambia National Petroleum Co
Dr Duncan Clarke Chairman & CEO, Global Pacific & Partners
Christopher Pitman CEO, Surestream Petroleum
Barry Rushworth, CEO & Director Afrex & Pancontinental Oil & Gas
Sam Malin CEO, Avana Petroleum
Colin Wilson Sales & Marketing Manager, Emerging Markets Africa, FMC Technologies
Babafemi Oyewole Executive Director, APPA
Tonye Cole Director, Sahara Energy, Nigeria
Radwan Hadi, Chief Operating OfficeVictoria Oil & Gas
Tewodros Ashenafi Chairman & CEO, Southwest Energy
David Cameron Vice President - Exploration, VAALCO Energy, Inc.
John Langhus Commercial Director, Forest Exploration International (SA) (Pty) Ltd
Scott Aitken CEO, Seven Energy Ltd
Tim O`Hanlon Vice President, Africa, Tullow Oil
Jacques Marraud des Grottes President, Africa, Total
Ebbie Haan Managing Director, Sasol Petroleum International
Adewale Tinubu Group Chief Executive, Oando PLC
Dr Duncan Clarke Chairman & CEO, Global Pacific & Partners
Pedro Augusto Cortes Xavier Bastos E&P International Business Development Manager, Petrobras, Brazil
Yoshimbumi Miyamoto Director, Europe & Africa, JOGMEC
Dr Emmanuel O Egbogah OON Sepcial Adviser To the President on Petroleum Matters, Office of the President, Nigeria
Daniel Pelerin Managing Director, Exploration, Maurel et Prom
Brian Maxted COO & Founding Partner, Kosmos Energy
Dr Alan Stein Managing Director, Ophir Energy
James Phillips Vice President, Exploration, Africa Oil Corporation
Eddy Belle Deputy Chief Executive Officer, Seychelles Petroleum Company
Ousseini Assane Boureima Chef de a Division, Ministere des Mines de l`Energie, Niger
Tomas Nhabay Acting Director General, Petroleum Resources Unit, Sierra Leone
HE Gabriel Lima Minister, Ministry of Mines, Industry & Energy, Equatorial Guinea
Andrew Objaye Director, Department of Petroleum Resources, Nigeria
Adriano Paulo Sebastiao Chief Geologist, Sonangol
Salah Hassan Wahbi President, Sudapet, Khartoum, Sudan
Martial Rufin Moussavou, Directeur Ministere des Mines de l`Energie du Petrole et des Ressources Hydrauliques, Gabon
Senator Lee Maeba Chairman, Senate Committee on Petroleum (Upstream), National Assembly, Nigeria
William Drennen Senior Vice President, Global Exploration & New Ventures, Hess
Lars Nydahl Jorgensen Vice President, Maersk Oil
Dave Fassom Director, Stellar Energy Advisors
Fredrik Ohrn CEO, Svenska Petroleum Exploration AS
Mthozami Xiphu CEO, Petroleum Agency South Africa
Nelson Ocuane Chairman & CEO, Empressa Nacional de Hidrocarbenetos
Dr Fodee Kromah President & CEO, NOCAL
Hon. Tam Brisibe Chairman, Sub-Committee on Local Content in the Petroleum Industry, House of Rep. Nigeria
Frank Patterson Vice President, International Exploration, Anadarko, Houston
John Downey Exploration Manager, Dana Petroleum
Galib Virani Head of Acquisitions & Investor Relations, Afren, London, UK
Peter Clutterbuck Deputy Chairman, Orca Exploration
Austin Avuru Managing Director, Platform Petroleum Ltd
HE Immanuel Mulunga Petroleum Commissioner, Ministry of Mines, Namibia
Joseph Pili Pili Mawezi Directeur Chef des Services des Projects, Ministere, DRC
Mwendia Nyaga Managing Director, National Oil Corporation of Kenya
Ketsela Tadesse Promotion Ops Dept,Ministry of Mines & Energy, Ethiopia
Sola Adepetun Partner, Adepetun Caxton-Martins Agbor & Segun
Kevin Wallace Manager, Europe & Africa, Challenger Minerals Inc
Jose Simao Fonseca Inspector of Petroleum Agreements, Ministry of Petroleum, Angola
Wade Cherwayko Chairman, Mart Resources
Richard Schmitt President & CEO, Black Marlin Energy
Teklehaimanot Debretsion Hd, Hydrocarbon Exp., Ministry Mines & Energy, Eritrea
Dr Duncan Clarke Chairman & CEO, Global Pacific & Partners
Dr Duncan Clarke Director, International Association For Independent Licensing Agencies, The Hague
Ian Craig Regional Vice President, Shell Exploration & Production Africa Limited
Alec Robinson President & CEO, Centric Energy
Senior Executive Perenco
Senior Executive TMK Africa, Moscow
M`Hammed El Mostaine Directeur de l`Exploration, ONHYM
Djibril Amadou Kanoute General Manager, Petrosen, Senegal
Manfred Bockmann General Manager, New Ventures, Africa & Middle East, RWE Dea
Julien Nkoghe-Bekale Minister For Petroleum, Republic of Gabon
Aillilat Antseleve-Oyima General Manager, DGH, Gabon
Martial Rufin Moussavou, Directeur Ministere des Mines de l`Energie du Petrole et des Ressources Hydrauliques, Gabon
Jim Martin Vice President, CGGVeritas, EAME Data Library
Steve Toothill Chief Geologist, CGGVeritas, EAME Data Library
Senior Executive Tanzania Petroleum Development Corporation, Dar-es-Salaam
Dr Ken Seymour Country Manager, Nigeria, E.ON Ruhrgas AG
Senior Executive Petroleum & Exploration Department, Uganda*
Jordaan Fouche Senior Executive, Earth Resources Investment Group
# # #