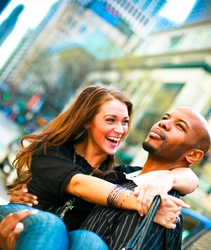 "It was stressful at first, putting my wedding in the hands of strangers, but now I realize our wedding is going to be so much more of an event, more memorable, and so much more special.''
Chicago, IL (PRWEB) July 7, 2010
Christy and Joshua were going to marry in a simple celebration until they were adopted by a Chicago company in the growing deal-a-day industry.
Now they will walk down the aisle in style with a wedding costing four times the original budget thanks to donations and discounts arranged by YouSwoop.com, an online deal site. By getting merchants to donate or steeply discount products and services, the couple will have a wedding worth $60,000 and climbing, a 300% increase from the original $15,000 budget.
Many of the same deals are available to the public at http://www.YouSwoop.com/wedding.
"We really hadn't done much when the discussion started about us doing a YouSwoop wedding,'' said Christy Beam, 22, the bride. "But we had a plan … kind of.
"It was stressful at first, putting my wedding in the hands of strangers, but now I realize our wedding is going to be so much more of an event, more memorable, and so much more special.''
The wedding is an illustration of what YouSwoop does every day – offer people the chance to experience local thrills, from activities to dining, health and beauty services and other items. YouSwoop offers a unique deal, called a swoop, every day at up to 95 percent off retail value.
For consumers it's a low-risk way to try a something new or even treat themselves to something they couldn't afford. For merchants it's a way to expose their product or service to more people with a promotion that does not require them to lay out any cash.
"The wedding is an extension of what we do every day,'' said CEO Alexander Lurie, who founded YouSwoop in 2009. "We offer deals, but they really amount to experiences and thrills.''
The deals for the couple include spa treatments for the bridal party, bachelor and bachelorette outings featuring Cub rooftop tickets and nightclub VIP access, a rehearsal dinner, reception venue and decorations, and lots of activites, meals, drinks and events for a sweet Chicago summer staycation. Perhaps the biggest boon to the wedding – and to Christy's peace of mind – are the services of Anthony Navarro, one of Chicago's top wedding planners according to TheKnot.com, a prestigious online wedding publication.
Couples are encouraged to sign up now to win next year's YouSwoop wedding!
Contact: Anthony Burke Boylan, 312-953-1649, BoylanMedia(at)gmail(dot)com
# # #