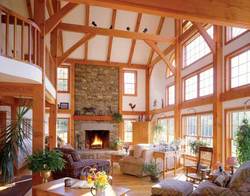 Davis Frame workshops are intended to help clients understand how to budget for a timber frame home and also to help them understand the design and building process of a timber frame home.
Claremont, NH (PRWEB) July 7, 2010 –
Davis Frame Company, Inc. timber frame home designer and manufacturer located in Claremont, New Hampshire is proud to announce that they will be hosting their annual OkTIMBERfest event at their Claremont, New Hampshire headquarters on Saturday, October 9th, 2010.
The event will include a series of mini workshops. Some of the topics will include design and budget for your new timber frame home, the benefits of using Structural Insulated Panels (SIPS) and a presentation from a builder's perspective. There is also a timber frame model home available for tours at Davis Frame's company headquarters. This workshop is designed to provide information to those looking to build a new timber frame home or addition.
The manufacturing plant and timber frame model home is available for tours year round and you can schedule your visit by calling 1-800-636-0993.
About the Davis Frame Company
Over two decades ago, Jeff Davis and Rick Bascom realized they shared a common dream: to build the finest custom-designed timber frame homes. Together they formed the Davis Frame Company. Both dedicated artisans, they have consistently attracted like-minded individuals to work with them who share the same ideals of quality, collaboration and an unrelenting passion for the trade. Every home by Davis Frame is both an expression of these values and a reflection of the owner's desires.
Davis Frame designs and manufactures energy efficient and luxury timber frame and post and beam homes. The company also builds heavy timber trusses, commercial timber frames, prefabricated timber trusses, prefabricated timber bents, timber frame homes, barn homes, timber frame additions, stairs, and porches from a variety of wood species. Davis Frame also provide Structural Insulated Panels (SIPS), Eagle and Integrity windows, pre-finished T&G, cedar siding and trim, custom fir railing, and a variety of other building products.
Visit Davis Frame Company's website for more information.
Contact:
Molly Gagnon, Marketing
Davis Frame Company
513 River Rd.
Claremont, New Hampshire
1-800-636-0993
###