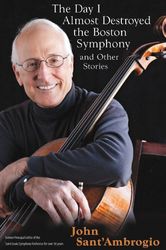 Author John Sant'Ambrogio is available for print, radio, tv interviews
Santa Barbara, CA (PRWEB) July 22, 2010
Author John Sant'Ambrogio, with 37 years in the Saint Louis Symphony and 9 in the BSO, tells of the attack and more than 50 other similar hilarious stories of life behind the scenes in a symphony orchestra in his book ""The Day I Almost Destroyed The Boston Symphony Orchestra and other Stories." A superb storyteller, Sant'Ambrogio relates how, as in life, the pursuit of serious classical music performance can be hilarious.
"Truly charming" . . . "You'll laugh, you'll get more than one lump in your throat, and you'll enjoy every word of this beguiling collection of stories, all wrapped up in the person of one John Sant'Ambrogio, cellist and story-teller extraordinaire." -- Reviewer Kelly Ferjutz in MV Daily.
"One vignette leads invitingly into another, connected like the players in a symphony orchestra and resembling the orchestra itself, which John likens to a metaphor for life." -- Harriet Freiberger, Steamboat Magazine
In a 15-minute radio interview on KCRB's "Curtain Call" show in California, John Sant'Ambrogio relates four tales from his book.
A reader comments "If you're a classical music aficionado like me, you should love this book! And what could be better for a reader on the go than a book of multiple short chapters? This is it. There are sixty-eight of these short chapters in this 365-page book, which read very easily, with never a boring moment to be encountered. There is humor and wisdom along with the musical notes. If you ever struggled with music lessons in your life, you'll relate all the more easily to the author's tales of his same difficulties."
In a recent video presentation, author John Sant'Ambrogio said "I only want to sell books because I want to spread the word and get people interested in music. It's an opportunity to share my joy of the things I've done in my life."
Another reader says, "This is one of the most delightful books I have ever read! I watched John and listened to the beautiful Saint Louis Symphony for 30 years. I also play cello in a community orchestra, so his stories were especially fun for me to read. I met John in a music class he was conducting, and we became friends a couple of years before he left St. Louis. John Sant'Ambrogio is so many things. Just to mention a few, he is a fine musician, teacher, a great story teller, a fun loving screwball, hiker, skier and a great friend. The stories he tells in this book are hilarious, like the time he pitched his tent over a rattlesnake pit, had a "sword" fight with bows with another cellist, times he got lost, when he was supposed to be leading his section, and of course the horrifying time he almost destroyed the Boston Symphony Orchestra! This is a terrific book for anyone who plays in an orchestra, or anyone who loves to be in the audience! "
"The Day I Almost Destroyed the Boston Symphony and Other Stories" by John Sant'Ambrogio. 365 pages, $23.95 available at http://www.CelloStories.com, selected stores, Kindle, PDF download, and other e-book formats.
# # #