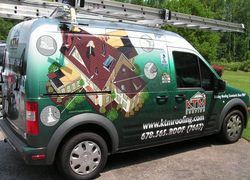 "The Atlanta community has come to expect exceptional service from KTM Roofing, and we believe our investment in the new roof education vans will only serve to improve their experience."
Atlanta, GA (PRWEB) July 8, 2010
KTM Roofing, a leading Atlanta roofing contractor, today announced that new vans have been added to the Atlanta roofing company's van fleet. Striking in their attractive forest green accent color, the vans, "unique, rolling educational tools," are packed inside and out with valuable information about roof care and maintenance.
Each van features a detailed, full-color illustration on the exterior sidewall. The signature illustration, a custom original commissioned by KTM Roofing, provides an aerial image of the roof and allows a KTM Roofing expert to explain and answer questions regarding a roof. The KTM Roofing van is filled with educational brochures and flyers that explore the key facts and tips on roof maintenance, as well as additional information regarding the breadth of services offered by KTM Roofing.
"Our mission is to provide the best roofing contractor services in Atlanta, and the investments we make in our sales and customer service tools expressly help us further this mission," said Tim McLoughlin, president of KTM Roofing. "The Atlanta community has come to expect exceptional service from KTM Roofing, and we believe our investment in the new roof education vans will only serve to improve their experience."
In addition to serving as a sales and educational tool for KTM Roofing clients and prospects, the vans will serve to promote the Atlanta roofer's brand. Metro Atlanta residents can look for KTM Roofing's new, roof education vans on display at community events and activities around the Atlanta area.
About KTM Roofing
KTM Roofing has been raising roofing standards in Georgia since 1984. Incorporated in 1995, the Atlanta roofing company is dedicated to excellence in professional roofing. Specializing in roof replacements, KTM Roofing can work with a variety of roof materials including natural slate, synthetic slate, clay tile, concrete tile, cedar, pine, cypress, modified bitumen and asphalt. You can receive a roof proposal from KTM Roofing by visiting http://www.ktmroofing.com.
# # #