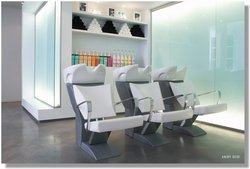 true excellence means more than a successful business…It requires a commitment to practicing the highest standards.
(PRWEB) July 12, 2010
With more than 20 years experience in the Hair and Fashion Industries, Marty Boechler's reputation for excellence expands back to the salon environment with one of the countries leading design teams.
Boechler's advanced training with Top Tier academies, offered opportunities as Lead Stylist for numerous magazines, a nomination as Canadian Session Stylist of the Year, and placement as a stylist during New York Fashion Week. Most recently Boechler had the honor of designing looks for the Opening and Closing Ceremonies of the Vancouver 2010 Olympic Winter Games.
Marty can be found backstage at fashion events, creating segments for magazines and television, on stage for the hairdressing industry, or behind the lens at photo shoots. He is in demand as an Industry Expert, speaking and writing in a professional capacity for Chatelaine, MTV Canada, Breakfast Television, and The Vancouver View…to name a few.
Boechler explains, "I've always believed that true excellence means more than a successful business, it requires practicing the highest standards". He continues, "I strive to deliver a distinctive luxury salon experience ideally suited to women and men who want to express their personality through innovative cutting, colouring and the finest hair treatments.This concept is mirrored perfectly within iDaburn Salons".
Ian Daburn, former Creative Director for Toni & Guy, has hand picked some of the brightest talent in the industry. With prestigious salons in London and Vancouver, Recognized from the devoted clientele for superb cutting, trend setting styling and a personalized approach, the iDaburn team creativity and attention to detail are also evident in the contemporary and chic design of the salon. Clean, Crisp lines, white walls, gleaming surfaces and high ceilings are the setting for modern furnishings and backwash stations. Specially sourced lighting has been installed to replicate natural daylight and allow colour technicians to achieve perfect hues.
Daburn explains,"Marty continually offers edgy high style classics to a discerning clientele of color conscious guests. He is constantly redefining his skill set,and that is something every stylist needs to excel. Clearly Marty has chosen the right path".
Apart from trimming the tresses of Vancouver style makers, Boechler is represented across Canada by JUDY INC. The nations leading Artist Agency.
###