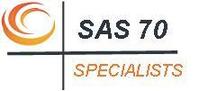 Orange, CA (PRWEB) July 6, 2010
SAS 70 Specialists is a leading provider that specializes solely in SAS 70 readiness reviews, SAS 70 Type I Reports, and SAS 70 Type II Reports. The Service Auditor's Report is intended to provide customers and independent accountants of customers with the information about the control structure features of the Company's business processes related to the outsourced data processing services it provides its customers. A SAS 70 Report:

is designed to help your users' (customers') auditors assess control risk, plan the audit and design procedures in conjunction with their financial statement audits
provides user auditors a common vehicle to gain an understanding of your control environment without performing independent procedures at your organization
is primarily a report from a "service auditor" to a "user auditor" on management's description of relevant internal control structure elements
"Most business executives prefer a collaborative partner when seeking professional services," says Jim Jimenez, Partner at SAS 70 Specialists. "SAS 70 Specialists offers the ultimate value proposition: competitive fees coupled with unparalleled client service and expertise".
SAS 70 Readiness Reviews
SAS 70 Readiness Reviews are consulting engagements that are designed to assist service organizations in assessing their preparedness for a SAS 70 audit. We work collaboratively with your management team to perform a detailed readiness review and provide you with a gap matrix that identifies controls that would pass right away, controls that would partially fail, and controls that would fail that require remediation (in priority order with recommendations for remediation). Some firms go right into the SAS 70 and realize there are issues which result in a qualified opinion. By that time, you've spent a lot of time and money only to get a qualified report (which is useless to you and your clients). With our approach, we perform a detailed readiness review, allow you remediate the gaps, and then start the clock ticking on a 6 or 12 month coverage period. We return at the end of the coverage period, test back through the period, and proceed to the report processing as soon as the coverage period ends.
SAS 70 Type I and Type II Reports
In addition to Readiness Reviews, SAS 70 Specialists completes both Type I and Type II SAS 70 Reports.
Type I - A report on policies and procedures placed in operation as of a specified point in time. SAS 70 Type I Reports evaluate the design effectiveness of a service provider's controls and then confirms that these controls have been placed in operation as of a specific date.
Type II - A report on policies and procedures placed in operation and tests of operating effectiveness for a period of time. SAS 70 Type II Reports include the examination and confirmation steps involved in a Type I examination plus include an evaluation of the effectiveness of the controls for a period of at least six calendar months. Most user organizations require their service provider to undergo the Type II level examination for the greater level of assurance it provides.
SAS 70 Reports are beneficial because:

Financial Audit Requirement by SEC - Auditors of your Clients will increase their scrutiny of the "system of internal control" during their audits of the financial statements (Sarbanes-Oxley) - which will result in more requests for your SAS 70 report.
Marketing and Competitive Advantage - SAS 70 can be a key differentiator to prospective clients
One Time Audit - Avoids user auditors (auditors of your clients) continuously contacting your personnel for separate audits throughout the year. Rather, your clients request and rely on the SAS 70 report.
About SAS 70 Specialists
SAS 70 Specialists is one of the nation's leading firms specializing solely in SAS 70 audits and readiness assessments. Each of our professionals has over 10 years of relevant experience at "Big 4" and other large international or regional accounting firms. Each professional is certified as a CPA (Certified Public Accountant), CISA (Certified Information Systems Auditor), CIA (Certified Internal Auditor), CISSP (Certified Information Systems Security Professional), and/or MBA (Master of Business Administration).
For information:
Jim Jimenez, Partner
SAS 70 Specialists
Phone: (714) 292-4827
Web: http://www.sas70specialists.com
# # #