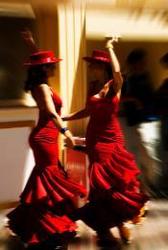 Learning Spanish is a treasure that will follow you all your life.
Florida (PRWEB) July 26, 2010 –
ImmersionSpanish.org, http://www.immersionspanish.org, is proud to announce the launch of its new immersion method Spanish language learning site. The immersion method means living in a place where Spanish is the primary language, so that in all aspects of their daily lives, people will be forced to communicate and interact in Spanish.
"The immersion method really works. Being forced to make use of the language continually makes the learning process significantly quicker," says Louis M De Jesus of ImmersionSpanish.org. "People have no choice but to learn. It is great motivation."
ImmersionSpanish.org helps those interested in learning Spanish get started. Visitors will find:

Information about studying in Spain
Seven tips for studying abroad
Information about don Quijote Spanish School in Barcelona
Six free Spanish lessons
Simple Spanish terms
Spanish traditions
Free online training sources
Techniques for learning a foreign language
CD training information
Psychological techniques in how to learn Spanish
"Just imagine the advantages of being able to communicate with Spanish speaking people all over the world. That's more than 450-million people in over 21 countries!" says De Jesus.
Not only does the immersion method accelerate the Spanish language learning process, but at the same time, living in a foreign country enables visitors to absorb the culture and customs of the people.
Learning Spanish with the immersion method is very much like learning English from childhood. Imitating the way people speak will intuit the meanings of words and phrases by the way they are applied.
De Jesus says one of the best ways to enhance learning is by taking classes in that country and having a tutor who is able to clarify questions and identify misconceptions about grammar and usage. ImmersionSpanish.org identifies resources for finding institutes for studying abroad, living arrangements or host families.
"The Immersion Spanish method takes people inside the culture of the region, acquiring knowledge of the language that goes way beyond conventional classes," says De Jesus.
Immersion Spanish provides the best results for people wanting to learn the language. Foreign exchange students have been using this process for years. Now, the method is available for anyone to pursue it. For more information, please visit http://www.immersionspanish.org.
About ImmgersionSpanish.org
ImmersionSpanish.org was created by Louis M De Jesus. De Jesus has a B.A. in Psychology from the University of Puerto Rico and 35 years experience in the Sales and Marketing at Avis Rent a Car, Budget Rent a Car and Popular Auto Leasing.
Media Contact:
Louis M De Jesus
321-251-0229
###