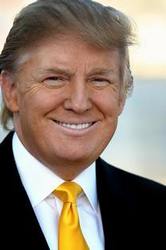 "Some people see problems as problems but to me they are challenges and that energizes me."
(PRWEB) July 2, 2010
Normally it is Mr. Trump firing the questions to hopefuls on "The Apprentice". However the tables were turned this time with the magazine being the one firing the questions and Mr. Trump answering.
Online luxury lifestyle magazine VERYBEST.COM features a section where they interview individuals and celebrities and ask them two questions. This time it was the American business magnate, chairman and CEO, Mr. Donald Trump, and VERYBEST.COM were delighted with his answers. If you want to know the private thoughts of one of the most recognized businessmen in the world, tune in to VERYBEST.COM on the 4th July.
The luxury lifestyle and philanthropy magazine differs from any other as Editor in Chief Mary-Louise points out. "We offer a magazine that is completely unbiased and one which features no advertisements to distract from the viewing pleasure of our readers, and we do not take fees for any of our features". Mary-Louise went on to say "Our plan is to create the world's largest luxury aficionados network, but one that has much more in common than just luxury; one that consists of people with a heart for those in need and the environment.
About VERYBEST.COM
VERYBEST.COM features News and Reviews on the world`s very best in products, services, people and philanthropy. The magazine takes pride in being able to offer content that is exclusive, independent and professional, content that you can trust, via weekly news, unbiased reviews, travel tips and updates from some of the most distinguished brands, events, destinations and individuals throughout the world.
Online luxury lifestyle magazine featuring the very best in products, services, people and philanthropy; for further information regarding this release or VERYBEST.COM, please contact Allison on +377-9770-2324 or e-mail us at press(at)verybest(dot)com.
# # #