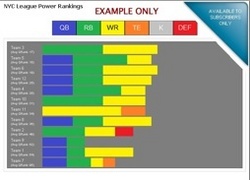 Our league used to declare keepers over email, this is infinitely better
New York, NY (PRWEB) July 14, 2010
KeeperCommish.com announced today that it is launching a new service designed for fantasy football keeper leagues, offering annual keeper declaration management and custom league cheat sheets and rankings.
The thrill of strategic competition has seen fantasy football become America's fastest-growing "sport", but  managing and participating in fantasy football keeper leagues is a notoriously complicated and time-consuming process. Until now!
Responding to the needs of millions of keeper league commissioners and team owners, KeeperCommish is designed to enhance and shorten the lengthy process of keeper declaration and draft analysis inherent in all keeper leagues.
The first rule in every fantasy football keeper league rulebook is annual keeper declaration. KeeperCommish offers a free independent keeper declaration & cut deadline management service. There are also three custom league reports designed to reduce draft preparation time and provide a basis for formulating draft strategy available to subscribers.
There are hundreds of different fantasy football keeper league rule structures, but they all share two things in common: Keepers (obviously), and a re-draft of remaining players.  These features require that someone first coordinate and tabulate the results (usually the league commissioner) and then each team owner performs individual research in preparation for the annual draft.  KeeperCommish automates these tasks, providing a one-stop analysis of the pre-draft "state of the league" that reduces compilation and analysis time down to seconds.
With KeeperCommish, say goodbye to:

Crossing out names in a magazine cheat sheet
Determining which players are left
-      Tedious email compilation and follow-up
-      Accusations of cheating (about these aspects at least)
-      Waiting for results to be posted
-      Determining who else needs a WR, for example
Commissioners routinely seek out services that will automate their league's transactions because, though it might be hard to fathom during the number-crunching bliss of August to January, life goes on outside of fantasy football and life takes time. Spouses need attention, jobs need doing, and garbage needs emptying.  KeeperCommish allows league managers and players to balance their two lives without risking divorce, unemployment, or personal hygiene.
Free services provided by KeeperCommish:  
-      Hosting of league keeper declaration process via password-protected team submission pages, options to handle late submissions, deadline warning emails, ability to see who hasn't submitted yet, and easy-to-read lists of keepers by team and position once the results are released.
-        "Popular Keepers". Keeps a running tally of each player's keeper status among all leagues using KeeperCommish. It's a great way to gauge sentiment and provides interesting insight into player valuation for various league types.
Optional reports & analysis ALL available for $2.99:
Custom cheat sheet with the league's kept players crossed out.
-      Sortable list of the best remaining players or free agents.
-      Graphic ranking report and position strengths and weaknesses analysis.
For fantasy football keeper league commissioners and team owners, there is no substitute for KeeperCommish, so take it off the bench and make it a starter today.
For more information visit keepercommish.com.
Rankings powered by QBallers.com.
###