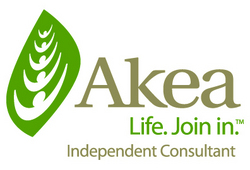 Ellerbe, NC (PRWEB) July 12, 2010
Finally, science and nutrition unite in Akea, a fast-rising new direct marketing opportunity featuring a whole food nutritional supplement designed to support people to live longer and healthier lives. Akea Essentials was formulated based on careful assessment of thousands of years of people living in Longevity Hot Spots, places on the map where diet and nutrition contribute to long, rich and full lives. Now, Akea has created a winning Direct Sales opportunity, allowing participants to make real money enriching people's lives and supporting their health at the same time.
Akea Essentials is a groundbreaking whole food nutritional supplement, containing the finest organic ingredients consumed by the worlds healthiest people and fermented for increased effectiveness. Akea Essentials represents the wisdom of the ages combined with the knowledge of modern science, making this a unique direct marketing opportunity.
In-depth research shows readily identifiable Longevity Hot Spots around the world. Akea did extensive research with the 9 Longevity Hot Spots including Bama, China; Montacute, England; Campodimele, Italy; Hunza, Pakistan; Loma Linda, USA; Nicoya, Costa Rica; Okinawa, Japan; Sardinia, Italy and Symi, Greece. These places represent all of the criteria of longer and healthier lives with more vitality. They are in fact the worlds healthiest people.
This direct marketing program revolves around Akea Essentials, containing essential ingredients in a proprietary Organic Hot Spot Blend™. 20 organic fruits, vegetables, herbs, spices and whole grains essential for combating the effects of the Standard American Diet (SAD). The daily recommended serving of Essentials provides the antioxidant power of 5 full servings of fruits and vegetables, the probiotic power of 6 servings of yogurt, the heart healthy beta glucans of 8 servings of oatmeal and the longevity promoting properties of resveratrol of 28 glasses of red wine. It's no wonder, Akea Essentials is packed with real superfoods like green tea, cocoa, ginger, curcumin/turmeric, ginseng, goji berry, apricot, noni, blueberry, elderberry, broccoli, reishi mushroom, and microalgae chlorella and spirulina. This is truly an exciting, unique product and opportunity sure to be a Direct Marketing sensation.
Savvy entrepreneurs should jump in early and become part of Akea's Prosperity Plan. Crafted with the same care as the supplement itself, this is truly an opportunity of a lifetime. Independent consultants have the freedom associated with direct marketing, augmented by the knowledge they are improving their customer's lives. Not many MLM opportunities provide both. For more information, visit http://www.my.akealife.com. To view a video detailing the Akea concept, click here: http://www.youtube.com/watch?v=XLc5kS6W5XA&feature=player_embedded#
Limited Time Offer: Sign up as a consultant by 8-31-2010 and receive a free can of Essentials shipped
Priority Mail with insurance to your door. *Offer for US residents only.
###