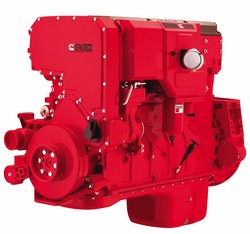 "We concluded that the Spiralock self-locking fastener will survive under-torqued installations where standard nuts would fail," says Dale Gibby, a Cummins mechanical development engineer. "The result is more reliable engine performance..."
Madison Heights, MI (PRWEB) July 7, 2010
To keep its industrial engine customers productively on the job, Columbus, IN, USA-based Cummins Inc., a global power leader of complimentary business units that design, manufacture, distribute and service engines and related technologies, sought the ideal solution to secure exhaust manifold joints when developing its Off-Highway Tier 3 QSX engine. Since standard fasteners were less than satisfactory due to its susceptibility to vibration, thermal distortion, loosening due to thermal cycles, and wide variability in initial pre-load, the company instead turned to a unique self-locking fastener to do the job.
"Our industrial customers rely on our engines to get the job done, often for decades, so our engines must be up to the task," says Dale Gibby, a Cummins mechanical development engineer at the company's Columbus Technical Center in Columbus, IN.
Gibby decided to pro-actively test the innovative Spiralock self-locking fastener against standard fasteners in an abusive, test-to-fail, thermal cycling test. The test compared how long typical stainless steel nuts vs. Spiralock stainless steel nuts stayed securely fastened on the exhaust manifold joints of a QSX industrial engine. Four nuts each were tested, with the Spiralock nuts silver plated for more consistent pre-load.
The re-engineered thread form of the Spiralock self-locking fastener adds a unique 30-degree wedge ramp at the root of the thread which mates with the standard 60-degree male threaded fastener.
The wedge ramp allows the bolt to spin freely relative to female threads until clamp load is applied. The crests of the standard male thread form are then drawn tightly against the wedge ramp, eliminating radial clearances and creating a continuous spiral line contact along the entire length of the thread engagement. This continuous line contact spreads the clamp force more evenly over all engaged threads, improving resistance to vibrational loosening, axial-torsional loading, joint fatigue, and temperature extremes.
To heighten the test's challenge, a warped, worn-out exhaust manifold was used with over 1,250 hours of thermal cycles, and many gasket failures and turbo removals. The engine ran an abusive thermal cycle test, cycling from 400 °F to 1400 °F and back every 6 minutes. Besides the huge thermal swings, the engine was run past redline and at high idle, with the RPM all over the place, according to Gibby.
The test-to-fail, thermal cycling test results:
Under the vibration and extreme thermal cycles, 3 of the 4 typical stainless steel nuts worked loose and fell off within 2 hours, leading to blown joints and a stopped engine.
But as Gibby describes, "The Spiralock nuts never fell off and were still secure over 18 hours after installation with no signs of backing off."
"We concluded that the Spiralock self-locking fastener will survive under-torqued installations where standard nuts would fail," says Gibby. "The result is more reliable engine performance that allows Cummins customers to get their jobs done in the toughest of conditions. Those with an engine in the field for many years will especially benefit."
"On industrial engine applications with vibration, thermal or joint fatigue issues, the Spiralock self-locking fastener is one of our top options," concludes Gibby. "As engines get more sophisticated and emission standards more stringent, they'll undoubtedly play a role in helping Cummins to assure joint reliability and industrial engine performance for our customers."
###