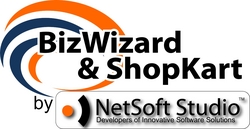 I have found that only BizWizard ShopKart (Awards Shopping Cart Software) actually does what it promises to do and actually has a high return on investment by keeping my search engine rankings high.
Reno, NV (PRWEB) July 1, 2010
NetSoft Studio Software announces their awards shopping cart software, BizWizard ShopKart, for awards and trophy stores, has customers ranking on page one and often position one of the three major search engines such as Google, Yahoo and Bing in the organic search listings for major awards and trophy industry search keywords.
Customers of NetSoft Studio Software who are using BizWizard ShopKart are finding their organic rankings within search engines moving to the primary pages at the beginning of the keyword searches such as acrylic awards, crystal awards, perpetual plaques, cup trophies, glass awards, baseball trophies, soccer trophies just to name a few. A big boost for NetSoft Studio's awards shopping cart software program.
Niels Norby of SD Trophy informs us that "I have seen many web site software solutions come out on the market, and after researching, I have found that only BizWizard ShopKart actually does what it promises to do and actually has a high return on investment by keeping my search engine rankings high, thus bringing in the new business."
Niels goes on to tell us that he is averaging $190,000/year in revenue directly from his awards shopping cart solution provided by NetSoft Studio's BizWizard ShopKart software and his investment to achieve those sales figures is a mere $1,800/year. In the words of Niels "Wow, what a return on investment!"
NetSoft Studio Spokesperson, M. David Matney, indicates the success of their customers is due in large part to the way BizWizard ShopKart Software is designed. "By simply following the search engine optimization recommendations of Google, and writing good, accurate content within the product descriptions, NetSoft Studio customers benefit with increased visibility in the search engines by using BizWizard ShopKart awards shopping cart web site with very little effort on their part."
Mr. Matney goes on to indicate that they have ensured their awards and shopping cart solution integrates with social media networks such as FaceBook, LinkedIn, MySpace, Blogger, Twitter, WordPress, StumbleUpon and Digg to name a few.
In addition, NetSoft Studio has ensured all their clients are ready for the IPv6 Conversion which could happen later this year, giving peace of mind to all their awards and trophy store customers that their awards shopping cart web sites will continue to operate when the plug is pulled on IPv4 network addressing system.
NetSoft Studio will be featured in an Article in July 2010 issue of Recognition Review titled "To Web or Not To Web" - Be sure to read this featured article written by one of NetSoft Studio's customers Niels Norby of SD Trophy.
In August, 2010, you can find NetSoft Studio exhibiting at the Long Beach NBM Tradeshow, featuring their software solutions including the awards shopping cart so many people are talking about.
In additional news, the SD Trophy Web site, an awards shopping cart site provided by NetSoft Studio, wins 2nd place at the International Awards and Recognition Convention in 2010. NetSoft Studio also entered their awards shopping cart software in the new technology category and for the 2nd year in a row, received placement at the same convention.
Learn more about BizWizard ShopKart at http://www.netsoftstudio.com
# # #