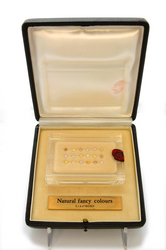 It's very rare to find a certified parcel, and it's even rarer to find it still in its original sealed box after so many years.
New York, NY (PRWEB) July 7, 2010
Leibish & Co., a leading company for fancy colored diamonds, presents its latest acquisition – a truly exciting piece of GIA history which will intrigue the diamond connoisseur. This collection of certified natural round brilliant cut fancy colored diamonds has been wax sealed in a unique transparent box since the day of its grading – January 15, 1981 – nearly 30-years ago.
Sealing of an entire GIA-certified parcel is infrequent, and this collection possesses a rarity which turns it into a collector's treasure.
The collection includes 18 stones in a variety of intensities ranging from Very Light to Fancy Vivid, for a total weight of 2.53 carats. The collection comes with its original GIA certificate, ID number 1910307, and its stones are guaranteed to be of "natural origin."
"This a collection diamond lovers will appreciate," Leibish Polnauer, president of Leibish & Co. said. "It's very rare to find a certified parcel, and it's even rarer to find it still in its original sealed box after so many years."
The 30-Year Collection
The collection comes inside a sealed transparent box, placed inside a satin lined box. The indentation of the wax seal is still visible on the satin lining of the outer box due the many years in which the box remained unopened.
The collection consists of the following colors:

Fancy Deep Brownish Yellow
Fancy Intense Yellow
Fancy Brownish Orangey Pink
Fancy Grayish Blue
Fancy Light Pink
Fancy Brownish Greenish Yellow
Fancy Light Pink
Fancy Intense Yellowish Orange
Fancy Greenish Yellow
Fancy Vivid Yellow
Fancy Orangey Brown
Fancy Vivid Yellow
Fancy Yellowish Orange
Fancy Vivid Orangey Yellow
Fancy Brown Orange
Very Light Pink
When considering the color grading, it is interesting to note that 30-years ago, the highest intensity provided by GIA was "Intense." The "Vivid" intensity category did not exist then, and certain stones then graded as "Intense" would today be listed as "Vivid."
Of the stones in the collection, the largest measures approximately 3.53 – 3.58 x 2.22 mm; the smallest stone in the collection measures approximately 3.10 – 3.14 x 1.87 mm.
About Leibish & Co.
For more than 30-years, Leibish & Co. has been the source for natural colored diamonds and jewelry. The world's finest jewelry designers and manufacturers rely on Leibish & Co. for their diamonds. In 1995, the company launched its website http://www.fancydiamonds.net in order to utilize the internet as an effective sales, marketing and service channel for its international customers.
Visit us at http://www.fancydiamonds.net.
###