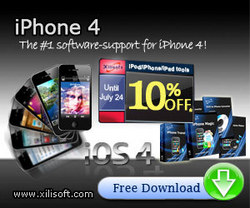 Here are summaries of not-to-miss software for the upcoming iPhone 4.
(PRWEB) July 1, 2010
Just in time for the release of iPhone 4, Xilisoft has created several software that would solve most multimedia problems that users encounter with the limitations Apple has set on their devices as well as on iTunes.
Most notable software for iPhone 4, would be Xilisoft iPhone Magic. It is a multimedia organizer, converter for iPhone. Enjoy music and watch DVD movies on your iPhone with the rip feature; transfer files to and from iPhone with computer seamlessly; or convert different video and audio files to iPhone format for maximum enjoyment.
Another useful tool for the iPhone 4, would be Xilisoft iPhone Ringtone Maker. Apple users have to buy ringtones from the iTunes store. But with Xilisoft iPhone Ringtone Maker, create unique ringtones from existing music without paying a single cent! Additional features include editing a song clip so that a certain segment is made into ringtone.
Another way to enjoy videos – in any file format – is to convert these iPhone 4 compatible files with iPhone Video Converter. Sharing and viewing is made easier with all video files right on your fingertips. Present a video to colleagues; share family photos and videos even music; watch a movie during transit – never get bored, watch and enjoy multimedia files right on the iPhone 4.
Aside from these tools, another useful iPhone 4, software would be Xilisoft PPT to iPhone Converter. Show and share presentations to colleagues and bosses right on the iPhone 4. No need to install PowerPoint, simply convert to video and transfer direct to the device.
Watch and enjoy DVD movies right on the iPhone by converting these DVD discs with Xilisoft DVD to iPhone. Rip DVD movies and convert to iPhone 4 format while still maintaining excellent audio and video quality.
For users who wish to transfer just about anything – music, video, photos, files, documents and more – between different iPhone devices and computers, Xilisoft iPhone Transfer is the best software that works on transferring tasks. Seamlessly organize and manage files without conflicting other files that belong to other devices.
As iPhone 4 is packed with features, but with these features comes with a price. Also, if not paid feature, there's always a restriction with regards to what users want to do. Users are compelled to purchase something they could actually get for a cheaper price or sometimes for free.
So this is where Xilisoft comes in. Xilisoft provides solutions for users in order for them to maximize and enjoy the features and uses of iPhone 4. With Xilisoft software and tools, iPhone 4 is enjoyed and utilized at its maximum.
To give thanks to their loyal and future customers, Xilisoft is giving an exclusive 10% off on any Apple-related products. Coupon code: xca4815542
###