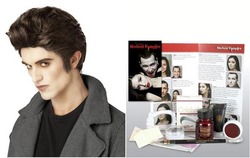 Vampire makeup and accessories are the perfect costume alternative for teen boys who aren't always comfortalbe wearing full costumes. With Twilight being all the rage, Twilight inspired makeup is a very trendy costume choice.
Edison, NJ (PRWEB) July 1, 2010
Vampires are hotter than ever. The third installment in the Twilight saga has just been released adding extra fireworks to this coming Fourth of July weekend. The fantasy of modern day vampires living among us fuels young girls' heads with the notion of forbidden love and has created vampire frenzy around the world. That is great news for the Halloween costume industry.
Modern day movie vampires don't wear the traditional vampire costumes seen in classic horror films. They look like everyone else, except for the grayish pallor of the undead. Creating the look of a Twilight vampire costume is easy with the use of vampire makeup kits that come with step-by-step instructions and all the tools necessary for application. In addition, wigs such as the Love at First Bite Wig copy Edward Cullen's wavy, highlighted locks.
"Many teenage boys don't find it cool to wear costumes. But Twilight inspired Halloween costumes give them the chance to wear their own clothes and use accessories like vampire makeup and a wig to transform into a popular character that is adored by teenage girls," says Costume Discounters' Buyer, Kelli Harkins.
Twilight and similar shows will help drive sales of male teen costumes, a category that typically sells less than others in the Halloween costume industry.
About Costume Discounters.com
Steve Mandell, founder of Party City, started Costume Discounters.com so online shoppers could have access to the best Halloween costumes at the lowest prices. Costume Discounters prides itself on having such low prices that they back it up with a Price Match Guarantee, beating any lower price for the same item by 20%. This concept, plus a user friendly website that offers one-stop shopping for the whole family has been a recipe for success.
Costume Discounters is also the only online Halloween costumes retailer to offer a Free Size and Exchange Policy. If a costume does not fit, is damaged or the customer decides they would rather have a different one, the shipping is free for the exchange as well as the replacement costume. Customers can order a replacement, print a shipping label and return the item without leaving the comfort of their home.
The online store features thousands of different costumes and accessories for people of all ages and pets too. CostumeDiscounters.com also has one of the largest selections of hats, wigs, masks, accessories and make-up available on the web.
###