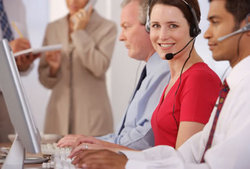 "We're getting a great response from our customers"
Dallas, TX (PRWEB) July 1, 2010
HRS Telemarketing announced that it is seeing an increase in orders for its virtual assistant and offshore telemarketing services. The increase in business is thought to be the result of the company's recent price reductions. Beginning in April, the agency began charging a flat rate of $7 per hour for outbound cold calling. "We're getting a great response from our customers", said CFO Dan Granbury. "Our previous pricing model may have confused some clients who were new to outsourcing. The simple plan and lower pricing seem to be working for everyone", Granbury continued.
HRS Telemarketing's flagship entity, Telemarketing Companies, has seen an increase in both direct and referral business. Granbury said that its secondary units including Outsource Telemarketing and Virtual Assistant Services, are also benefiting from the pricing change. The company launched the web properties in 2008 to provide targeted information and specialized services to its clientele.
HRS provides call center services from its locations in the Philippines. The Business Process Outsourcing company specializes in virtual assistant services, telemarketing and appointment setting, as well as data entry. The firm serves businesses of all sizes around the world.
# # #