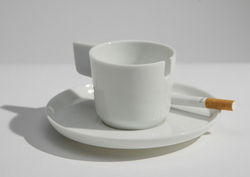 Today's men are looking for the home décor items which will reflect their personalities .We handpick the Italian designers and products we feature, making sure they are unique and affordable, and can bring that feeling of Italian style to everyday life
New York, NY (PRWEB) June 30, 2010
GSelect, an premium online store for unique home décor items, furnishing and personal accessories for men, is now featuring emerging Italian artists and product designers.
"We are very proud to be able to expose the Italian product designs to the American audience" says Davide Carbone, Founder and owner of GSelect. "Forget the image you have of a messed array, mass-production products, and forgotten socks when you think of a man's home. Today's men are looking for the home décor and furnishing items which will reflect their personalities and preferences. We believe that the unique style, fresh creative point of view, humor, and the high quality of the products we carry will cater to the taste of the American audience, looking to make their homes stylish. We handpick the Italian designers and products we feature, making sure they are unique and affordable, and can bring that feeling of Italian style to the everyday life of our customers. "
Born and raised in Italy, Davide Carbone was exposed to the Italian style from his early childhood.
"The appreciation for good life, good style and beauty is something that surrounds you from birth. It's the food and the way that it's served; the furniture and the clothes… " GSelect, launched in 2009, has been featuring design items, from the basic cleaning Utilities to furniture, books, personal accessories and even pet products. "GSelect is all the things I love. Quirky yet amazing twists on beautiful, quality objects like my grandfather's old wooden chair and the wooden sled and birdhouse that I had a child, plus very modern and sophisticated objects with lots of style. "
The combination of Italian product designers and GSelect was natural. The unique products of Italian designers such as Matteo Cibic, Carlo Trevisani, Angela Violino & Tim Boyce (Doodle Design) and Enzo Mari are exclusively featured on GSelect site.
Matteo Cibic's designs include the Drago and Drugo quirky trophy vases, the Domsai Terrarium Small Plants Vases and the Bedside Lamp Fishbowl secret sex toys.
Carlo Trevisani's Coffee and Cigarettes is an espresso cup with a placeholder for the cigarette, just like in Milan and Rome.
Angela Violino & Tim Boyce (Doodle Design) have beautiful ceramic vases featuring "Falling" and "Flying" patterns.
Enzo Mari's Perpetual Calendar is an elegant and sophisticated wall calendar, which allows for the date to be revealed by sliding the strips of wood and shows the dates both in English and Italian.
# # #