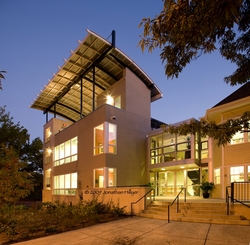 From our initial meeting with Southface we were attracted to this project. The work Southface does is amazing, and the Eco Office is an exceptional example of sustainable design
Atlanta, GA (PRWEB) July 1, 2010
The Southface Eco Office, a LEED® Platinum downtown office, training facility and sustainable building demonstration center, has launched an Online Tour to complement its weekly, in-person tour program. The Eco Office Online Tour makes it possible to learn about this award-winning building, and its sustainable design and performance features from anywhere in the world. The Online Tour also provides virtual building access to researchers who wish to study the building's exceptional energy and water use metrics.
"The Eco Office demonstrates that small commercial buildings can be green and achieve high performance standards at a reasonable cost," said Southface Executive Director Dennis Creech. "In addition, the building is fitted with sensors that monitor its energy and water performance on a 24/7 basis, all within the context of prevailing weather conditions. As a result, we have been able to gather extensive data for research purposes, and hope this will provide valuable insights to those designing the next generation of sustainable buildings and products."
The Eco Office is a three-story structure with a rooftop green roof. At 10,100 square feet, it is about the same size as 74 percent of commercial buildings in the U.S. Officially opened in August 2009, the Southface Eco Office uses widely available off-the-shelf products, materials and technologies. The energy-, water-, and resource-conserving building is more energy efficient than 94 percent of comparable existing buildings tracked by ENERGY STAR®, and uses 84 percent less water than comparable facilities.
Accessing Eco Office Performance Data
The Eco Office's performance is measured through Lucid Design Group's Building Dashboard®, which presents real-time and historical data on the facility's resource use including electricity consumption; daily kilowatt hours of electricity produced onsite through its photovoltaic solar array; daily gallons of water consumed and saved; current rainwater levels in the building's above- and below-ground cisterns; and more. All of this information may be accessed through the Online Tour.
Online Tour Partner – Zenith Design Group
The Eco Office Online Tour was developed by Zenith Design Group as part of the agency's Good Works program. Each year, Zenith Design Group identifies a small group of deserving nonprofit organizations to receive pro-bono services. The Good Works grant can be utilized for a wide array of services including marketing strategy development, branding, advertising, and other marketing efforts. "From our initial meeting with Southface we were attracted to this project. The work Southface does is amazing, and the Eco Office is an exceptional example of sustainable design," said Bonnie Buckner Reavis, founder and CEO of Zenith Design Group. "The Eco Office Online Tour has been an engaging project, and we are proud to see it promote best practices while providing valuable research opportunities."
Said Dennis Creech, "We were delighted to receive a Good Works grant from Zenith Design Group! It has made the Eco Office Online Tour possible, helping Southface to champion our mission of promoting sustainable homes, workplaces and communities. The Good Works program offers an excellent opportunity to nonprofits in need of additional marketing and interactive resources. We have been delighted with the results!"
About the Southface Eco Office
The Eco Office has achieved Platinum LEED (Leadership in Energy & Environmental Design) certification from the U.S. Green Building Council. It has also qualified for ENERGY STAR and EarthCraft Light Commercial certifications, and meets The 2030 Challenge launched by the non-profit group Architecture 2030. In September 2009, it was awarded the Georgia Natural Leaders Award for Water Conservation, and in March 2010, it received the Atlanta Business Chronicle's top environmental honor in the "Green Reach" category.
More than 200 organizations donated products and services to build the Eco Office, including Lord, Aeck & Sargent (architect) and contractor consortium members – normally competitors –DPR, Hardin, Holder, R.J. Griffin, Skanska, and Winter.
The building is available to selected researchers as a test bed for new green products and services. For more information and to find a research application, please visit http://www.southface.org/research.
About Zenith Design Group
Zenith Design Group, Inc. is Atlanta's brightest full-service advertising agency. Established in 1998, Zenith has amassed a distinguished clientele of Atlanta's most recognizable product brands and real estate developments. Zenith Design Group is home to a remarkable group of creative, business-minded talent, and is located in historic Marietta Station in downtown Marietta, GA. To find out more, visit http://www.zenithdesigngroup.com.
About Southface
Since 1978, Southface has encouraged responsible solutions for environmental living. Driven by the Southeast's growing need to save energy and water, and preserve our natural resources, Southface has successfully fostered unique partnerships with business, government and nonprofit organizations. Southface's educational programs, research and technical assistance reach design and construction professionals, homeowners, government officials and others, promoting sustainable homes, workplaces and communities. For more information, please visit Southface at http://www.southface.org.
###