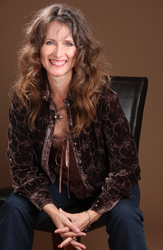 I talk to capable, dynamic and talented women entrepreneurs every day who have been struggling to grow their businesses for years. It doesn't have to be that way. If I can create a multi-million dollar home-based business doing what I love, anyone can.
Tucson, AZ (PRWEB) July 1, 2010
Multimillionaire marketing and money expert Kendall SummerHawk is hosting a free training call where's she'll be revealing the 5 simple steps women entrepreneurs must take to breakthrough and generate 6 figures in their businesses quickly and easily no matter where they are right now. To find out more go to http://www.BusinessGrowthSecretsCall.com.
There are a lot of myths out there about what it takes to build a successful business but SummerHawk knows the real truth. SummerHawk started her business nearly a decade ago making many of the same mistakes she sees her clients making all of the time. Today she runs a multi-million dollar home based coaching business with her business partner husband and a full team of support.
SummerHawk teaches women that it doesn't have to be so hard. She challenges them to move from waiting until everything is perfect to getting in the habit of taking quick and decisive action. She believes that one of the most important things women entrepreneurs can do is value what they do, charge fees that are in line with that value and act like the millionaire business owners they want to be...even if they haven't quite achieved that level yet.
SummerHawk is known for her results driven business and marketing strategies and for helping women around the world journey to financial freedom by charging what they're worth and getting it.
What participants will learn on this free call will help them expertly attract and keep more ideal clients and learn what it will take to take their business to a new level and make much more money.
Highlights will include: The 3 ways women entrepreneurs may be unconsciously discounting and undervaluing themselves, why they don't need a big list to make six figures in their business, how to know with certainty if their niche is holding them back from making the kind of money they want, and the hidden advantage every woman possesses that will help her achieve six figures.
Kendall says, "The good news is, it often only takes some subtle shifts in your mindset and your marketing to see dramatic increases in business and income."
Kendall SummerHawk, the Million Dollar Marketing Coach, is an expert at helping women entrepreneurs, at all levels, design businesses they love and charge what they're worth and get it. Kendall delivers simple ways entrepreneurs can design and price their services to quickly move away from 'dollars-for-hours work' and create more money, time, and freedom in their business. Join Kendall for her upcoming training call at http://www.BusinessGrowthSecretsCall.com.
###