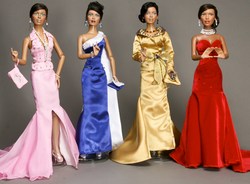 "I wanted to create a line of collectible fashion dolls that would truly capture the essential beauty in ethnic people." Niccole Graves, Trinity Designs, Inc. CEO
Chicago, IL (PRWEB) July 1, 2010
Trinity Designs, Inc. may be the new kid on the block in the design, manufacture and distribution of collectible dolls, but this neophyte continues on its course for unprecedented success after its successful Spring 2009 debut in Chicago and Atlanta. Trinity Designs, Inc. has tapped into the collectible doll market, creating ethnically inspired collectible fashion dolls targeted towards elite college sororities and professional occupations. If current trends continue, this company is definitely here to stay.
Trinity Designs, Inc. announced its first major campaign with its premier line, "The Essence of a Delta" doll, inspired by CEO, Niccole Graves' own membership in Delta Sigma Theta Sorority, Inc. At 16 inches, 5 inches taller than standard fashion dolls, "The Essence of…" line continues to distinguish itself with sculpted hands and audio capability, making it the industry's first audio-equipped collectible fashion doll.
Preorders will begin on July 1st with the opening of the online store at http://www.trinitydesignsinc.com followed by a week-long appearance at the National Convention for Delta Sigma Theta Sorority, Inc. in New Orleans, LA ( July 29-August 4, 2010).
"The Essence of…" Doll Collection also includes The Essence of a Zeta, The Essence of Lady Ivy, The Essence of Lady Sigma and The Essence of a Lambda, all currently in design phase with preorder campaigns slated for Fall 2010.
###