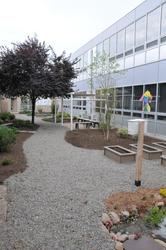 "The Eisenhower Middle School Outdoor Classrooms were a terrific opportunity for our members to work together, create a landscape that is both beautiful and meaningful, and raise awareness to the public as to the value of working with a professional..."
Elmwood Park, NJ (PRWEB) July 6, 2010
On June 10, 2010, members of the New Jersey Landscape Contractors Association (NJLCA), Wyckoff dignitaries, Eisenhower Middle School staff, teachers, and parents, and the Friends of Wyckoff came together to celebrate the grand opening of two outdoor classrooms at the Middle School created during the 2010 PLANET Day of Service. View Video of project progression here.
Held on Earth Day since 2009, PLANET Day of Service gives members of the landscape industry an opportunity to plan, organize, and carry out "green" service projects that benefit their communities. Projects are focused on lawn care, landscape maintenance, tree care, irrigation, or interior plantscaping that benefitting the local community. Last year, more than 280 projects were completed in 43 states and Canada, with approximately 1,500–2,000 volunteers participating and over $400,000 in time and services donated to local communities.
This year, the NJLCA called upon its membership for submissions of projects to be considered the official PLANET Day of Service Project. Construction completed two years ago at the school created two enclosed courtyards of concrete, gravel, and weeds. Over the past two years, students in grade 7 and 8 science classes have tracked the path of the sun, researched plants, measured the heat island effect of the two areas, and brainstormed mitigation strategies that would use vegetation to cool the classrooms adjacent to the courtyards. Jody Shilan, MLA, President of the NJLCA, who volunteered his services to design the project, said, "The Eisenhower Middle School Outdoor Classrooms were a terrific opportunity for our members to work together, create a landscape that is both beautiful and meaningful, and raise awareness to the public as to the value of working with a professional NJLCA landscape contractor." Adds Committee Chair, Dave Cavilla, "The NJLCA enjoys giving back to the community and what better way than helping school aged children develop a better appreciation for their outdoor environment. Through community service projects we establish ourselves as a local organization that takes pride in what it does."
On April 22, 2010, the New Jersey Landscape Contractions Association (NJLCA) began turning student ideas into a reality, transforming the two enclosed courtyards into outdoor science classrooms. As part of a student-submitted proposal, the NJLCA recruited members to assist on the nationwide PLANET Day of Service in creating a sustainable green education courtyard which will be used for outdoor science education exploratoriums and investigations related to sustainable development. The winning idea addresses sustainable agriculture, xeriscaping, watershed management, and the use of landscaping to reduce the urban heat island effect.
NJLCA coordinated volunteers during three phases on Earth Day, Arbor Day, and the following Saturday, along with donations of numerous materials, to turn these gravel courtyards into beautiful, enjoyable, outdoor classrooms. The project volunteers (see listing) included company owners and employees, NJLCA staff, Eisenhower Middle School faculty, parents, and students. Companies had the opportunity to showcase their abilities, complete lasting improvements, and give back to the community. Virtually all of the materials were provided as donations by industry vendors (see listing), and the project is estimated to be valued at approximately $100,000, with over 1600 man hours used.
In addition, the project received a visit from Senator Robert Gordon's office. Senator Gordon, District 38, stated "The PLANET Day of Service illustrates the great work that can be achieved when community members come together for an important cause. Landscape professionals and suppliers dedicated their time and resources to work as one unit on this sustainable learning garden project. Now, Eisenhower Middle School students will be able to learn first-hand the importance of "going green." I commend the New Jersey Landscape Contractors Association, Eisenhower Middle School, and all the companies and workers who volunteered their time to make this project possible." Deputy Chief of Staff to Sen. Gordon, Matthew Marinallo, who visited the site on April 22nd and attending the ribbon cutting ceremony said, "In difficult economic times, worthwhile projects like this sustainable learning garden need the support of generous organizations and individuals. Fortunately, the New Jersey Landscape Contractors Association and several landscape professionals and suppliers volunteered their time and resources for the good of the community. I would like to personally thank the NJLCA for giving me a tour of the project and Acting Superintendent Kuder for allowing me to visit Eisenhower Middle School."
On site project managers Bob Pedatella, CLT, (NJLCA's Vice President) and Gail Woolcott (NJLCA's Director of Operations) directed volunteers in completing a variety of features. While some volunteers were creating a pondless waterfall, others were building pergola of PVC and copper pipe, and yet others constructed planter benches, while others planted various perennials, grasses, and trees. Additional tasks included paver installation, creation of an arbor, also of PVC and copper pipe, erection of a small greenhouse, installation of wallstone, creation of raised beds for planting vegetables for the Home Economics department, installation of a butterfly garden, and much more. Employees from several companies, who are often competitors, worked together in harmony for this community service project.
The NJLCA is proud of its membership for facilitating this worthwhile project and coming together as an industry and expects that the community, school, and its students, will appreciate the efforts for many years to come. 8th Grade teacher, Lori Chen adds, "We are indebted to the NJ Landscape Contractors Association for choosing the Eisenhower Middle School sustainability education outdoor classrooms as their Planet Day of Service/Arbor Day project. The volunteers and contributors have transformed two unused weed-filled courtyards into vibrant, exciting spaces for the study of plant ecology and sustainable agriculture. Students can't wait to plant the first crops for next year's home economics classes. Language arts teachers are already planning to use the serenity of the water feature and beauty of the butterfly garden to inspire poetry and reflective journaling. The courtyards have been transformed from places no one wanted to be to places everyone wants to be. This project has truly touched the future through the children who will grow and blossom in the garden."
Contributing Landscape Contractors and Suppliers:
Al D. Landscaping & Tree Service- Fairview, NJ
All Season Services, LLC – Saddle Brook, NJ
All Service Contractors Equipment – Pompton Plains, NJ
Aquarius Supply – Hawthorne, NJ
Benks Land Services – Mine Hill, NJ
Borst Landscape & Design – Allendale, NJ
Cal, Liam and Eilish Donnell
Camberly Gardens – Tenafly, NJ
Cedar Hill Nursery – Mahwah, NJ
Chris Hricik
Chris James Landscaping – Waldwick, NJ
Christopher Muller
Dan Como & Sons – Towaco, NJ
DC Freeman – Millburn, NJ
Downes Forest Products – Hawthorne, NJ
Frank's Truck Center – Lyndhurst, NJ
Friends of Wyckoff
Gail Woolcott
Garrett Planten (Bergen Community College) – Paramus, NJ
Green Meadows Landscaping – Oakland, NJ
Horizon Landscape Co. – Wyckoff, NJ
Jake Shilan
Jennifer Salmon
Jody Shilan Designs – Wyckoff, NJ
Joe Bolognese (Impact Irrigation Consulting)
John Deere Landscapes – Franklin Lakes, NJ
Kathy and Mike Bowers
Kindergan Landscaping – Bergenfield, NJ
Kodiak Landscape and Design – Haskell, NJ
Kodiak Tree Experts – Teaneck, NJ
Lori and Jim Chen
Nancy Maphis (Christian Health Care Center) - Wyckoff, NJ
Plant Health Care, Inc. – Old Westbury, NY
Premium Aquascapes – New Milford, NJ
Ramsey Building & Paver Supply – Ramsey, NJ
Rob and Alex Shean
Roberto Guitierrez
Shemin Nurseries – Mahwah, NJ
SnapEdge – St. Charles, IL
Steve and Alexander Raimo
Tech Terra Organics – Mt. Laurel, NJ
United Rentals - Ridgefiled Park, NJ
The Weglarz Family
Wilson Horticultural Group - Franklin Lakes, NJ
Wyckoff DPW
Wyckoff Education Foundation
# # #