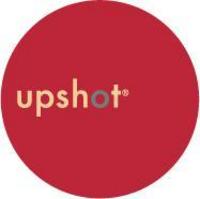 Chicago, IL (Vocus) July 1, 2010
Upshot, a Chicago-based marketing agency, kicked off a three-month employee fitness challenge—dubbed Tour de Fit—to get Upshotters moving both inside and outside the office this summer. Tour de Fit participants track hours of physical activity and the number of steps they take each day with pedometers donated by Omron Healthcare (a client of Upshot's).
Upshotters embraced Tour de Fit with an 85% participation rate ranging from super-motivated gym rats to not-so-motivated-but-know-they-should-be employees. Before the competition launched, 14 teams were divvied up and began brainstorming names showcasing Upshot's culture at its best. Sole Train, Blood Sweat & Beers and Gluteus Maximus were a few that made the cut. Not a detail was missed; a website lets participants log time and steps, tracks the teams' progress and naturally instigates positive heckling between competitors. Throughout the competition, unannounced prizes will be awarded to keep people on their toes, and at the end of the three-month challenge each member of the winning team will receive three extra vacation days.
Upshot's Tour de Fit challenge is part of a bigger wellness initiative to keep employees happy and healthy all year long. During the first week of the competition, employees were eligible for on-site (and free!) biometric screening. Upshotters also benefit from weekly yoga classes as well as chiropractic and massage workshops to keep them motivated and on track.
"This component of our wellness program taps into the competitive nature that is inherent in our people," commented Upshot President & CEO Brian Kristofek while checking his own pedometer.
For more information about Upshot visit upshot.net.
About Upshot
Upshot (upshot.net) is a Chicago-based marketing agency that challenges indifference to engage consumers. Upshot strives to engage consumers through simple ideas brilliantly activated with a focus on brand marketing, integrated promotion, retail marketing, regional marketing and interactive marketing. Clients include Procter & Gamble, Kraft Foods, Crown Imports, Aircell and Tremor to name a few. Upshot is a division of EMAK Worldwide (emak.com).
###