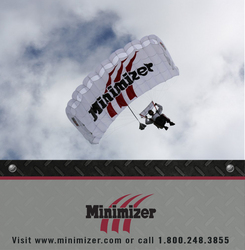 Blooming Prairie, MN (PRWEB) July 1, 2010
Minimizer supports many charitable causes both locally and nationally. Because our customer base is over-the-road and across the country we feel it's important to support causes beyond our hometown boundaries.
Kevin Burkart, a long time friend of Minimizer needed help. He wanted to do 200 skydives in a day to support Parkinson's Disease. The proceeds would provide care and comfort for those living with Parkinson's Disease today and fund research to try and find a cure for tomorrow.
Minimizer Chief Visionary Officer Craig Kruckeberg "jumped" at the chance. "It was a good fit for us. We knew this disease was pervasive and affected our customers. It's also an extreme event that matches well with our products. We knew Kevin was going to test and torture himself like never before, as our products do everyday, so we wanted to be there to help," Kruckeberg stated.
Parkinson's Disease affects many of Minimizer's current and past customers across the country. It is the second most common neurodegenerative disease and effects 1 in 100 people over the age of 60. It's also more prevalent throughout the Midwest, the farm belt, because of the demographic and work being done here. This is home to a significant concentration of Minimizer's customers because we're based in the heartland.
"The 200 Perfect Jumps for Parkinson's Disease" took place on Wednesday, June 16, 2010. Minimizer was there, sponsoring the first jump, and providing additional funds for a custom canopy sporting the Minimizer brand.
The day's event raised nearly $65,000 for Parkinson's Disease. Minimizer was proud to be a part of the event.
"I can't thank Minimizer enough for their vision, generosity and willingness to assist with a cause like this," Burkart said, "Many people will benefit from the event both inside and outside of the trucking industry. It's good to give and we made a difference."
Extreme like Minimizer's products, Burkart turned a skydive approximately every 3 minutes for over 12 hours, completing a successful day with the assistance of his sponsors and a host of logistical, ground and aeronautical crew.
Minimizer fenders will enhance the performance of all makes and models of over the road trucks, construction vehicles, or agriculture equipment.
Enhance and protect your vehicle with Minimizer products. The toughness is unmatched as seen on this Minimizer promotional video entitled "Tested & Tortured".
To order Minimizer fenders find a distributor by clicking here. Minimizer fenders and related products are available through exclusive Minimizer distributors.
For more information or to contact a dealer, call us at (800) 248-3855 or visit our website or email us at info@minimizer.com.
About Minimizer
Headquartered in Blooming Prairie, Minn., Minimizer manufactures poly truck fenders, poly toolboxes, customized mud flaps, and bracket kits. Family owned and operated for nearly three generations, Minimizer parent company Spray Control Systems, Inc., was founded in 1983. Minimizer aims to provide products tough enough to please tough people in a tough industry. For more information call (800) 248-3855 or visit http://www.minimizer.com.
###