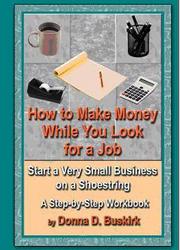 We don't know how to work for ourselves. We have to learn.
Graham, NC (PRWEB) July 5, 2010
Donna D. Buskirk was laid off from Microsoft in November, 2009. This is the third time she has been laid off, but the first time she has used unemployment benefits. Buskirk (pronounced, she says, "...like a bus fell on Captain Kirk") was a technical writer and recently started writing freelance articles for a small-town weekly newspaper. She clarifies, "I duly report my income to the state employment commission."
She says, "I actually wrote and published the book (How to Make Money While You Look for a Job, Start a Very Small Business on a Shoestring, A Step-by-Step Workbook) the first time I was laid off after ten years at MCI, but I didn't know how to promote it. Now, I'm taking a course in online marketing while I look for a job, but I still couldn't get up the nerve to go public."
Buskirk found a book called, "The Courage to Write" by Ralph Keyes in a used bookstore. She says, "What a difference it made to find out how many authors are scared to death when they write." But she still put off updating the book.
She says, "I had conducted one interview to update the book, and a coworker wrote a great piece about his experience getting laid off where I worked, but I wanted to get a lot more content. And I really didn't have time."
Buskirk grew up on Air Force bases across the U.S. and now lives with her two youngest children and husband on a small farm in North Carolina. Her husband was laid off and, after unsuccessfully looking for a job in the nearby Research Triangle Park for a year, he recently accepted a position in Northern Virginia. He makes the five-hour commute every weekend. She says, "I was busy and still shy about getting the book out there, but then I read an article about baby boomers not having enough retirement savings. When you add job loss to that, it inspired me to do a search on 'increase suicide boomers.'
"I found headline after headline asking, 'Why Are Boomers Killing Themselves?" That made me get up off my fear and finish the book with just that new content I had. It's a really good resource now, at 123 pages including workbook pages," says the author.
A June 11, 2010 New York Times article titled, "In Midlife, Boomers Are Happy — and Suicidal" cites a Centers for Disease Control and Prevention study that found, "...for the second year in a row, the group between ages 45 and 54 had the highest rate of suicide, a reverse of historical trends."
Buskirk says, "Of course I know there are other factors, but I hope the book helps someone. It's very encouraging". The book, which she self-published first using Booklocker.com and currently using CreateSpace.com, describes seven steps, starting with, "Step One: Realize You Can," to help others who are fearful of going out on a limb.
Buskirk says, "I am working on a book proposal for a new title -- '100 Reasons to Work For Yourself, Why We're Afraid to Try, and What We can Do About It.' I need to interview psychologists and business coaches...I plan to share excerpts from those interviews with people who sign up for the Seven-Steps-to-Money list."
Buskirk plans to send a short daily email to people who sign up for her email list at SevenStepsToMoney.com, covering each step in turn. The steps are: 1. Realize you can; 2. Decide which service to provide; 3. Set up your home office; 4. Create your action plan; 5. Advertise; 6. Sell (Yes you CAN); and 7. Grow your business. "Plus," Buskirk says, "you get a real kick-in-the-pants in each email. I love motivating people."
Buskirk says she's not sure when her own unemployment benefits run out. "I think I have four weeks left so it will be interesting to live on just my husband's salary. If I don't land a permanent (ha-ha) position, I'll try to get more freelance work, and, I hope, sell the new book." The $10 paperback edition of "How to Make Money While You Look for a Job" will soon be available online at SevenStepsToMoney.com.
###