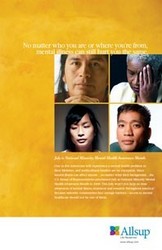 Minority Mental Health Awareness Month is an opportunity to educate the public about serious mental illness in diverse communities
Belleville, IL (Vocus) July 1, 2010
Nearly 44 million Americans experience mental disorders each year. And the illness doesn't discriminate—it can affect anyone at anytime, regardless of ethnic background, gender or income. July is National Minority Mental Health Awareness Month and Allsup—a nationwide provider of Social Security Disability Insurance (SSDI) and Medicare plan selection services—invites individuals and organizations to raise awareness by displaying free posters to help erase the stigma of mental illness and break down barriers to treatment.
Mental illnesses, such as depression, post-traumatic stress disorder, bipolar disorder, schizophrenia and eating disorders, are among the most common conditions affecting health today, according to the National Mental Health Information Center. While minorities have similar rates of mental illness as the Caucasian population, they experience steep barriers to treatment and often receive poorer quality of care, according to the National Alliance on Mental Illness (NAMI).
"Minority Mental Health Awareness Month is an opportunity to educate the public about serious mental illness in diverse communities," said NAMI Multicultural Action Center director MaJose Carrasco. "These illnesses are real. They are like any other illnesses. Thankfully, there are treatment and supports available, so recovery is possible."
Cultural differences and lack of information about mental health result in greater levels of stigma associated with mental illness. This causes many people to avoid accessing and adhering to treatment. Minorities also may encounter multiple barriers to treatment, including language and cultural barriers, a fragmented mental health system, no health insurance and a shortage of bilingual mental health providers. Unfortunately, these and other conditions lead to significant disparities in access and quality of care for minorities with mental illness.
"One out of every four individuals has a mental health problem and all of us are touched by these illnesses in one way or another," said Ms. Carrasco. "We may have an illness, have a loved one with an illness or know someone who is ill. Untreated or undertreated mental illness causes significant, unnecessary suffering for individuals, their families and communities. This even has negative economic implications since it results in loss of productivity."
In fact, when compared with all other diseases (such as cancer and heart disease), mental illness ranks first in terms of causing disability in the United States, Canada and Western Europe, according to a study by the World Health Organization (2001).
An important message during Minority Mental Health Awareness Month is that recovery is possible. "While mental illness can disrupt your life, there are resources, treatments and supports that can help you live a full and meaningful life," said Ms. Carrasco. "The key is to look for help and support."
During Minority Mental Health Awareness Month, learn more about resources such as NAMI that offer help and information. Order free Minority Mental Health Awareness Month posters by calling Tai Venuti, (800) 854-1418 ext. 8573 or request them online.
ABOUT ALLSUP
Allsup is a nationwide provider of Social Security disability representation and Medicare plan selection services. Founded in 1984, Allsup employs nearly 700 professionals who deliver specialized services supporting people with disabilities and seniors so they may lead lives that are as financially secure and as healthy as possible. The company is based in Belleville, Ill., near St. Louis. For more information, visit http://www.Allsup.com.
ABOUT NAMI
The National Alliance on Mental Illness, http://www.nami.org, is the nation's largest grassroots mental health organization. Founded in 1979, NAMI has affiliates in every state and in more than 1,100 local communities across the country. NAMI leaders and members are dedicated to improving the lives of individuals and families affected by mental illness. As a national organization, NAMI focuses on mental health education; support and advocacy efforts to offer hope, raise awareness and initiate change throughout the United States.
###