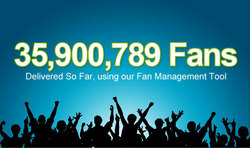 "Over 400 client including The City of Miami Beach, Svedka Vodka, Cash for Gold Canada, Vlingo, Dream Nightclub, FiLife, and Blue Flame"
New York, NY (PRWEB) July 1, 2010
What can the "FACEBOOK ME" effect do for your business and brand? "Facebook Me" is the new replacement phrase for "Find Me or Look me up". This will also soon replace the already famous "Google Me" phrase created by it's users. If you don't think it is, well you are alone because the Co-Founder of the new advance social media marketing and advertising company SociallyBuzz along with 500 million other people think it is. Even now more than ever with the rumor mill boiling hot about Google transforming that "Google Me" effect into a Social Network to compete with Facebook, they still have a lot to worry about as Facebook move in on Google share of online advertising.
"Google is yesterdays news, Facebook is the future for Businesses, Brands & Consumers " - A.K - Co-Founder of http://www.SociallyBuzz.com
The powerful "Facebook Me" effect have also drawn tens of thousands of businesses to not only advertise on the social network platform but to build a web like presence for there company, product and brand. With the help of the new social media marketing company SociallyBuzz, companies and brands can get there fan page custom built with Designs, Graphics, Forms, Videos, Pictures, Campaigns, and even provides a real live dedicated social media account manager to create an engaging consumer experience directly from there Facebook fan page. SociallyBuzz is only 6 months old with investments only from the owners, but competitors better watch there back, as they have there eye on acquiring a few companies to maximize there market share.
SociallyBuzz is a new social media marketing, management and advertising company that is enhancing how businesses interact with consumers online. SociallyBuzz have executed numerous of campaigns from targeted fan page growth and management to online and social media marketing for over 400 clients some via their partners and affiliates. SociallyBuzz client list includes The City of Miami Beach, Svedka Vodka, Cash for Gold Canada, Vlingo, Dream Nightclub, FiLife, and Blue Flame, which were all executed in less than 6 months of existence, is proving that SociallyBuzz is living up to there reputation of not only providing businesses with the "Facebook Me Effect" but with "Social Media Marketing" on steroids.
For additional information on SociallyBuzz,Inc visit http://www.SociallyBuzz.com