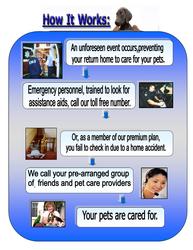 Our pets well-being is totally dependent on the choices made to provide for them. We have a moral obligation to ensure their safety under all circumstances. ~Founder, Mia Krauss
Boca Raton, FL (PRWEB) July 5, 2010
With vacation time here and the economic crisis affecting many Americans vacation plans, the "day trip" or "Staycation" has become more and more popular. While this saves money, and is good for local economies, it also leaves pets more vulnerable to being left behind if an owner has an accident and is unable to make it home to care for them. Unlike traditional vacations in which pet owners make arrangements for their pets care while they are away, people taking short day trips expect to be home by the late afternoon or early evening from their mini vacation, and most do not make arrangements for people to stop by and care for their pets. They don't even necessarily tell anyone they're gone. Cat owners in particular feel they can easily spend a night or two away from their cats if there is a litterbox, food and water left out for them. But, if something happens, and an owner cannot get home due to an accident or other unforeseen event, these pets can go for days or longer without care. How long should a pet go without food or water…is one day too long?
Pets Guardian, a Personal Emergency Notification Service, provides a pet safety system for owners, ensuring their pets will be cared for, even if the pet owner becomes incapacitated. Pets Guardian contacts a clients group of friends and neighbors that have been pre-arranged to care for the pets, when notification by a First Responder comes thru the toll free number listed on Members emergency cards.
Pets Guardian members receive Emergency Notification cards for their wallets with a specific toll free number for first responders to call. The wallet cards come with a clear plastic carrying case which also holds the members drivers license, ensuring that the emergency number will be seen by First Responders. When a First Responder calls the number on the card, this initiates the Pets Guardian response and the clients support group is contacted. In Florida, clients can add the toll free emergency number to their Motor Vehicle Drivers database, thanks to "Tiffany's Law", enacted in 2006 to aid First Responders in getting the help victims need, quickly. Auto signs and signs for the Home, giving information about pets inside the house, are also included in the membership. This aids Fire Rescuers, especially if a home owner is not present, as there will be someone to take the pets to safety, leaving one less thing for rescuers to concern themselves with.
While Pets Guardian was originally designed as an emergency backup for active pet owners, the "stay at home" pet owners still ran the risk of their pets being left alone, if they were to have a home accident, such as a slip & fall. To cover that gap in a pets safety net, Pets Guardian introduced their Premiere Package Plan. Unlike many emergency alert services which require the client to push a button for help, the Premiere Pets Guardian service is designed as a daily check-in/check-out service. Clients receive a morning e-mail reminding them to check in with Pets Guardian for the day, and another e-mail in the evening reminds them to check out. All client check-ins and check-outs are monitored. If a Client fails to check-out for the day, or check-in the next morning, a Pets Guardian Team member attempts to contact the client. If a connection cannot be established, the client's pre-arranged group is contacted. If all else fails, local 911 operators are notified of a potential problem. This ensures that even if a Pets Guardian client is unable to reach out for help, the help reaches out to them, and their beloved pets.
Pets Guardian started with an attempt to make sure the Founders animals were cared for with a backup plan that backfired; and a near disaster when a friend did not follow thru as requested. The Founder, a long time Pet Care Provider, knew there had to be a way to protect her pets in a professional manner so, after realizing a service like Pets Guardian didn't exist, she started it.
For more info contact:
Mia Krauss, President
561-929-6602
http://www.petsguardian.com
# # #