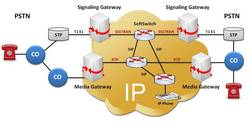 MAPS SIGTRAN supports powerful utilities like Message Editor and Script Editor which allow new scenarios to be created or existing scenarios to be modified using ISUP messages and parameters. Also available is an independent GUI based SIGTRAN (SS7 over IP) Protocol Analyzer for online capture and decode of the signaling in real-time both during tests and as a stand-alone tracer for live systems
Gaithersburg, MD, USA (Vocus) July 1, 2010
GL Communications Inc., announced today the release of its new SIGTRAN (SS7 over IP) Emulation software - an advanced protocol simulator/tester for SS7 simulation over IP Networks. Speaking to newsmen, Mr. Karthik Ramalingam, Project Manager at GL, said, "Message Automation & Protocol Simulation™ (MAPS) is a powerful protocol test simulation platform supporting a wide range of protocols such as SIGTRAN (SS7 over IP), SS7 over TDM (T1 E1), ISDN over TDM (T1 E1), GSM-A & GSM-Abis over TDM, Megaco, SIP, and MGCP over IP.
MAPS SIGTRAN is an advanced protocol simulator/tester for SS7 simulation over IP Networks. It can simulate a Signaling Gateway and Softswitch ISUP signaling specification as defined by ITU-T standards. The tester supports testing network elements, error tracking, regression testing, conformance testing, load testing/call generation and generation of high volumes of ISUP traffic. MAPS SIGTRAN functionality covers the ITU and ANSI variant of SS7 implementing M3UA, and ISUP protocols. It is able to run pre-defined test scenarios against ISUP test objects in a controlled & deterministic manner".
He added, "MAPS SIGTRAN Conformance Scripts are suitable for compliance tests and functional tests, where test objects can be accurately and reliably validated for compliance with ITU-T standard Q.761-764 and Q.784. It is suitable for manufacturers, network operators and service providers to address all stages of the development cycle, regression testing through to type approval, and acceptance testing".
Mr. Ramalingam further added," MAPS SIGTRAN supports powerful utilities like Message Editor and Script Editor which allow new scenarios to be created or existing scenarios to be modified using ISUP messages and parameters. Also available is an independent GUI based SIGTRAN (SS7 over IP) Protocol Analyzer for online capture and decode of the signaling in real-time both during tests and as a stand-alone tracer for live systems".
Applications
•Complete analysis and simulation capability on par with any protocol tester in the market
•Provides fault insertion, and erroneous call flows testing capability
•Functional testing, Regression testing and Conformance testing of network elements
•Ready scripts makes testing procedure simpler, less time consuming and hence time to market products
About GL Communications Inc.
Founded in 1986, GL Communications Inc. is a leading supplier of test, monitoring, and analysis equipment for TDM, Wireless, IP and VoIP networks. Unlike conventional test equipment, GL's test platforms provide visualization, capture, storage, and convenient features like portability, remotability, and scripting.
GL's TDM Analysis & Emulation line of products includes T1, E1, T3, E3, OC-3, STM-1, analog four-wire, and analog two-wire interface cards, external portable pods, and complete system solutions. Capabilities include voiceband traffic analysis and emulation across all traffic types (voice, digits, tones, fax, modem), all protocols (ISDN, SS7, GR-303, Frame Relay, HDLC, V5.X, ATM, GSM, GPRS, etc.), and with capacities up to thousands of channels.
GL's VoIP and IP products generate / analyze thousands of calls / traffic simultaneously with traffic types such as frames, packets, voice files, digits, video, tones, noise, and fax using G.711, G.729, AMR, EVRC, GSM and a range of other codecs. Additional features include visual analysis, real-time listening, and recording. The product line also includes Ethernet / IP Testing capability that simulates and checks frame transport and throughput parameters of Ethernet and IP networks, including delay, errors and other impairments.
GL's Voice Quality Testing (VQT) product line complements all of GL's products. Using ITU-standard algorithms (PAMS, PSQM, and PESQ), GL's VQT provides a widely excepted solution across the telecom industry. Voice Quality Testing across multiple networks (T1, E1, T3, E3, OC-3, VoIP, Wireless, and Landline) are all available.
GL's Wireless Products perform protocol analysis and voice quality assessment on GSM, CDMA and UMTS networks. Connections can be made to any wireless phone with automated call control, GPS mapping and real-time signal measurements.
GL's Echo Canceller testing solutions provide the broadest range of simulation and analysis, including compliance testing per G.168 and G.160 across TDM, IP, VoIP and Wireless networks. GL's wireless VQT solutions help assessing impairments to voice quality such as poor mobile phone quality, voice compression and decompression algorithms, delay, loss and gain in speech levels, noise, acoustic and landline echo, and other distortions are easily assessed and accurately measured.
GL's Handheld data testers can test a wide variety of communications facilities and equipment including T1, fractional T1, E1, fractional E1, T3 and E3 modems, multiplexers, CSU, DSUs, T1 CSUs, DTUs, NTUs and TIUs and more. The testers provide convenience, economy, and portability for almost any interface, including RS232, RS-422, RS-530, X.21, T1, E1, T3, E3, and many others.
GL's Network Surveillance and Monitoring products include Probes for TDM, IP, VoIP, ATM, and Wireless networks. An open standards based approach provides a scalable, feature rich, real-time access to network intelligence. Centralized or distributed access, efficient transport and database loading allow compatibility with 3rd party and standards based monitoring systems.
###