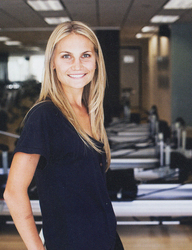 Los Angeles, CA (PRWEB) July 1, 2010
Los Angeles fitness studio Pilates Plus HBV and owner Heather Dorak have been featured on Access Hollywood's 'Healthy Hollywood' special during NBC Health Week.
Summer beach weather in Los Angeles means sexy outings, body-bearing bikinis, and booty anxiety. Pilates Plus Hollywood, Brentwood and Venice Beach owner and trainer, Heather Dorak, knows just how to get her clients - celebrities and non-celebrities alike - ready for the summer.
On the special Access Hollywood health segment, which aired in June, Dorak showed off her signature Pilates moves on the SPX/SYSTEM DYNAMIQUE and taught Access Hollywood correspondent Shaun Robinson and viewers how to stay fit with Pilates in their 20's, 30's and 40's.
Dorak showed off innovative Pilates moves that celebrities love, but that everyday folks can also do at home at any age.
Pilates Plus HBV offers SPX/SYSTEM DYNAMIQUE a highly acclaimed full body training technique developed by Sebastian Lagree that strengthens, tightens and tones the entire body quickly and safely. SPX/SYSTEM DYNAMIQUE integrates the lengthening and stretching principles of traditional Pilates and adds strength training and cardio to a 55 minute small group class environment to achieve optimal personal fitness.
Pilates Plus HBV built its' reputation on providing the best environment to meet all personal fitness goals and continues to provide a place for the optimal workout and quickly achieve a sleek, defined physique. With that in mind Pilates Plus HBV developed "The 30/30" a proprietary, unique and innovative circuit training workout combining 30 minutes of SPX/SYSTEM DYNAMIQUE Pilates and 30 minutes of spinning. Pilates Plus HBV also offers full spinning classes as well.
Heather Dorak is available to do fitness demonstrations, interviews, and welcomes in-studio reviews from fitness bloggers and editors. Schedule a free session for your TV show, magazine or blog by contacting Ann Murray at 3106510304/ann@amurraypr.com
About Heather Dorak
Heather is a fitness wunderkind. Pilates Plus HBV began shortly after she had discovered SPX/SYSTEM DYNAMIQUE pilates while in college. Like many of her current students she fell in love with the exercise. She experienced a renewed sense of energy and amazing results after just a short time. She opened her Hollywood studio at age 23 with a small goal in mind to bring this amazing work out to her peers. The phenomenon caught on very quickly so much that she wanted to expand Pilates Plus Hollywood to Brentwood where she opened her second studio, Pilates Plus Brentwood. Almost 3 years after opening Pilates Plus Hollywood she has ventured west to Venice Beach to open her third studio. Hollywood's elite also began to take notice. 'Heroes' stars Ali Larter and Hayden Panettiere, as well as Marcia Cross of 'Desperate Housewives,' Rachael Harris, Meghan Markle and many more began to see incredible, fast results through regular Systeme Dynamique classes
During the years of owning and operating what is now called Pilates Plus HBV, she has created a new class called "The 30/30". It is the perfect integration of SPX/SYSTEM DYNAMIQUE pilates and spinning.
Heather strives to meet each client's fitness goals through unsurpassed customer service, easy to access on-line class purchasing and booking system and pristine studios. To schedule your first class free click here.
###