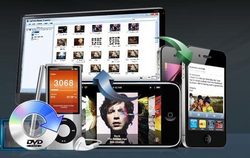 iPhone Transfer Plus is the one solution to all your iPhone media transfer needs.
Salt Lake City, UT (PRWEB) July 2, 2010
ImTOO releases iPhone Transfer Plus (iPhone 4 compatible) for PC and Mac, a fully upgraded version of its previous iPhone Transfer. iPhone Transfer Plus allows users to transfer media from iPhone to computer and computer to iPhone. This feature rich program makes transferring music, DVDs, videos, and photos between iPhone and computer easy. iPhone Transfer Plus works similar to iTunes, just without any of the restrictions.
The main purpose of iPhone Transfer Plus is to help users better manage their media. iTunes has a bunch restrictions that limits how we transfer media to and from one's iPhone. iPhone Transfer Plus will also allow transfer of media from iPhone directly to iTunes. In case a computer crashes and loses all the music in one's iTunes library, iPhone Transfer Plus can recover iTunes' library by transferring iPhone/iPod music directly to computer or iTunes.
Main features of iPhone Transfer Plus

Convert and transfer videos and audio to iPhone
Rip DVD/CD and convert videos/ ISO images/IFO folder to iPhone
Convert and Transfer movies and music from computer to iPhone
Transfer files among iPhone (supports iPhone 4) and iPod touch
Comes with Free iPhone Ringtone Maker
ImTOO iPhone Transfer Plus has a built-in DVD, audio, and video converter. iPhone Transfer Plus will convert and transfer DVDs and videos for any iPhone, iPod Touch, or iPod. The iPhone Transfer Plus' built-in DVD ripper lets one rip DVDs directly to iPhone. The program will automatically adjust video size and resolution according to best fit any iPhone, the option to customize and adjust the video quality is also available.
The built in video converter will convert just about any video and audio format, supporting over 60 video and audio formats, including HD videos. Easy convert and transfer any downloaded video to iPhone compatible MP4 format. iPhone Transfer Plus will then transfer the videos directly to any iPhone or iPod.
As a bonus, iPhone Transfer Plus has included a free iPhone Ringtone Maker in this package. Create and customize iPhone ringtones from any video or audio format then transfer it directly onto your iPhone.
Overall, iPhone Transfer Plus is a versatile and easy to use iPhone transfer program that lets you transfer contents from iPhone to computer and iTunes, convert videos and DVDs to iPhone, and create iPhone ringtones from any audio source. ImTOO Product Manager Chris states " iPhone Transfer Plus is the one solution to all your iPhone media transfer needs." Download it and give iPhone Transfer Plus a try.
About ImTOO:
ImTOO is a software company that offers multimedia conversion solutions. For over 7 years, ImTOO has been striving to bring the latest and most innovative software products to enhance people's multimedia life. For more information about ImTOO and its products please visit http://www.ImTOO.com
###