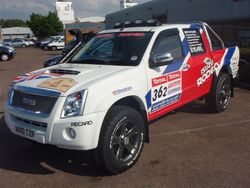 (PRWeb UK) July 2, 2010
Having completed work for Conders Garage in the past, the Peterborough signs and graphics company was asked to help with its plans to promote the Isuzu Rodeo which would be used at several shows in the coming months.
The brief was to produce vehicle graphics in the style of a previous Isuzu Rodeo vehicle which was used in the Dakar Rally by Isuzu in Australia. The Peterborough team used a range of vinyls to recreate the design including Avery cast vinyl printed on MD5 with clear laminate and also Mactac cast vinyl, these were then applied to the Rodeo as a partial wrap.
Signs Express (Peterborough) owner Anne Hitch commented on the project: "When we were asked to produce the graphics there were no quality images available so we had to work from old photographs to recreate the UK version of the Australian vehicle. This involved re-designing the layout to include the UK flag rather than Australian; changing the colours to red, white and blue; and also adding sponsorship logos and replacing Dakar Rally references with Conders. It was a challenge, especially as some of the angles of the vehicles are slightly complicated for wrapping purposes, but we were happy to be given the challenge."
The campaign which involves the Isuzu Rodeo travelling to different regions in the UK to promotional shows, will help both Conders and Isuzu (UK) promote both the vehicle and the Isuzu brand.
Dealer principal at Conders Garage, Ian Armstrong spoke highly of the Signs Express centre: "We have just completed a three day show in the East of England and the graphics really did create a great deal of interest and encouraged people to visit our stand. We've used Signs Express for the past three years and have always found their work first class so I knew that Anne would be up to the challenge of replicating the graphics from just a few low-res images."
Signs Express (Peterborough) is part of the UK and Ireland's largest sign and graphics franchise with 80 centres nationwide. Providing signs and graphics to its local B2B community, the Peterborough signage specialist can produce, print and install interior and exterior signs, vehicle and window graphics, banners and exhibition displays as well as health and safety signs and labels and stickers. To find out more, please visit http://www.signsexpress.co.uk/peterborough
Notes for editors:
1) For further press information, please contact Sarah Critoph at Signs Express. Tel: 01603 625925 or e-mail: sarah.critoph@signsexpress.co.uk.
2) Signs Express is a member of the British Sign and Graphic Association, the British Franchise Association and The International Sign Association.
3) For further information on Conders Garage please visit http://www.conders.co.uk.
# # #