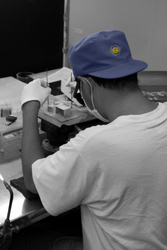 Choosing and buying cuvettes has never been easier.
Farmingdale, NY (PRWEB) July 9, 2010
NSG Precision Cells has become one of the global leaders in quality and pricing for quartz and glass cuvettes for spectroscopy, flow channel cells, microfluidic chips, and other highly precise quartz optical components. Since 2008 NSG has been receiving requests from customers to add an e-commerce option to their website.
In early 2010 NSG did just that. The new NSG Precision Cells website has more data, more helpful tips on taking care of cuvettes, more discounts and sales, and most importantly, an option to order cuvettes online. All online orders are shipped the same day
As Precision Cells grows so does its technology. NSG has gone from producing a few hundred cuvettes to being able to manufacture thousands of cuvettes, flow channel cells, and flow cytometry cuvettes on a monthly basis. Being able to produce such a large volume has given Precision Cells the ability to obtain many OEM customers who have a high demand for flow channel cuvettes each month.
NSG Fusing Technology:
The two most important elements when looking at optical cuvettes and flow channel cuvettes are (1) the optical quality and (2) how they are assembled.
Precision Cells has honed their fusing techniques to making it impossible to see where the cells are bonded together. When looking at their flow channel cuvettes, they look like they were made from one solid block of glass.
Precision Cells offers the following options for fusing of quartz and glass:
1. Thermal Fusing (most popular)
2. High Powered Fire Fusing a.k.a. Welding
3. Standard Fire Fusing
NSG Optical Quality:
Precision Cell ensures the best optical results for experiments. NSG has a well established reputation for producing the highest quality optical surfaces available.
All cuvettes and other optical products that NSG Precision Cells manufactures are thoroughly inspected by their ISO certified inspection team. The NSG factory in Sakata, Japan is certified by ISO 9001:2000, JIS Q 9001:2000. All inspection is done in a class 100 (ISO 5) clean room to eliminate any kind of dirt or dust particles that can cause imperfections on the cuvettes. Precision Cells' rigorous inspection method ensures that the products they ship out are guaranteed to perform above today's standards.
NSG Custom Manufacturing:
NSG has been making custom cuvettes for spectroscopy and flow channel cells for the past 30 years. From small production runs of 1-10 pieces to mass production quantities of 200 cells per month, no job is too big or small. NSG only requires a rough sketch and they take care of the rest.
NSG has made cells for major companies such as Center for Disease Control (CDC), NASA, Northrop Grumman and National Institute of Standards and Technology (NIST).
Contact information:
NSG Precision Cells
195 Central Ave.
Suite G
Farmingdale, NY 11735
Phone: 631-249-7474
Visit NSG on Twitter and Facebook.
# # #