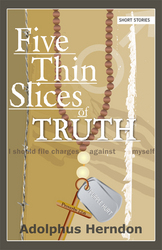 The Rant of Roymon Bivenz
Pittsburgh, PA (Vocus) July 1, 2010
Adolphus Herndon makes his grand entrance into the world of literature with five independent stories.
"Me and My House" - Tyler Dalton is tired of being the neglected preacher's kid. He tests his parents' spirituality and faith when he makes a shocking confession.
"Before the Morning After" - Chauncey Dawson's self-inflicted deceit catches up with him. The consequences of self-denial pay him a visit.
"The Rant of Roymon Bivenz" - After committing sabotage, Roymon Bivenz soliloquizes to the world that Black suppression justified the destruction. Journalist Me'Shella Owens discovers that his psycho-dramatic ranting is a guise.
"Purple Hurt" - Private Jason Delgotti has been fighting for his life long before he stepped into Iraq. He refuses to let his sexuality prevent him from serving as a Soldier. Conflict with peers, painful past reflections, and a bloody battle challenge his inner strength and patriotism.
"Angel on a Fire" - Womanizing, social drug using, middle-school teacher Xavion Furlough refuses to commit to anyone. When a former student abruptly comes back into his life, Xavion learns that life doesn't just revolve around him.
About the Author
Adolphus Herndon hails from East Texas, but currently lives in the south central part of the state. Five Thin Slices of Truth is his first book.
"Adolphus Herndon is a fresh new author who brings real-life situations and stories to readers. His characters and various storylines make you keep turning the page. Even after putting the book down, I kept wondering how is the story going to turn out and was lured to read more."
-Melissa S. Monroe
co-founder of MedaiWrite Communications and former journalist
RoseDog Books is pleased to announce the publication of Five Thin Slices of Truth by Adolphus Herndon ($23.00) ISBN: 978-1-4349-9600-8, paperback. For more information, please contact RoseDog Books, at 701 Smithfield Street, Pittsburgh, PA 15222. To place a book order or to learn important information about shipping prices, tax, and our return policy, please call (800) 834-1803.
###