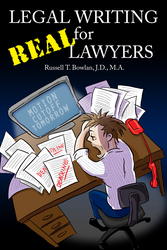 Pittsburgh, PA (Vocus) July 1, 2010
The title says it all. This is not another tedious rulebook littered with unfounded gimmicks dreamed up at a faculty mixer. Here you will find practical advice from an attorney who has been writing trial and appellate briefs in the trenches for nearly two decades. After taking you on a raucous voyage back to the dawn of interpersonal communication, Mr. Bowlan will unveil the fundamental myths about language and legal writing. At journey's end, you will emerge with a new appreciation for linguistics—and you'll never look at your legal research and writing professor the same way again. What do Trolls, Curmudgeons, and Yapping Chihuahuas have to do with legal writing? Open the cover and find out.
About the Author
A private detective and award-winning poet before he entered law school, Mr. Bowlan practices law with an uncommon skepticism regarding form and convention. Fascinated with the power of the written word from an early age, Mr. Bowlan is outraged at the legal writing "authorities" who, with their emphasis on mindless "rules," churn out lawyers who can't write a sentence more dynamic than "See Spot run." With piercing humor and unflinching common sense, Mr. Bowlan has reclaimed for all writers the art of eloquent written discourse.
RoseDog Books is pleased to announce the publication of Legal Writing for Real Lawyers ($17.00) ISBN: 978-1-4349-9796-8, paperback. For more information, please contact RoseDog Books, at 701 Smithfield Street, Pittsburgh, PA 15222. To place a book order or to learn important information about shipping prices, tax, and our return policy, please call (800) 834-1803.
###