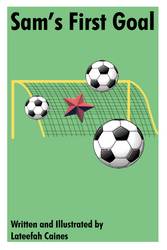 Pittsburgh, PA (Vocus) July 1, 2010
RoseDog Books is pleased to announce the publication of Sam's First Goal ($17.00) ISBN: 978-1-4349-9617-6, paperback. For more information, please contact RoseDog Books, at 701 Smithfield Street, Pittsburgh, PA 15222. To place a book order or to learn important information about shipping prices, tax, and our return policy, please call (800) 834-1803.
In this illustrated story for children Sam decides to join a soccer team. At first Sam is not very good at kicking the ball into the goal but after she practices she gets better. Sam hopes that all of her practice will help her get a goal in the big game.
About the Author
Sam's First Goal was written and illustrated by Lateefah Caines. She lives in Maplewood, NJ and likes to write, read and play.
###