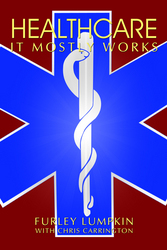 Pittsburgh, PA (Vocus) July 1, 2010
Technology is changing the practice of medicine in dramatic ways, both positive and negative. There are those who are comfortable with the evolution of technology, and there are those who are not. Technology can be an important tool to reduce errors and improve outcomes, if it is used correctly and built upon accurate information and, more importantly, is equally easy to use whether you are a technology-averse person or the most technologically savvy. We are all smart in different ways, and the most caring nurse or doctor may find the forced format of computer commands to be confusing, making what is designed to be a life-saving tool into something altogether different.
When you cross the threshold into a hospital, regardless of your role, you may not be at your best, confused by the concern over your health or the health of a loved one. Your outcomes are not the responsibility of one person, but the responsibility of a very large team of people, many of whom you will never meet, and you should take an active role in understanding everything that is happening, to the extent possible.
Healthcare: It Mostly Works provides an overview of much of what happens in a hospital beyond the patients' active involvement, with the goal of helping patients and their families understand what is happening around them and to assist the hospital in delivering better outcomes. Active participation in the process is more important than ever.
About the Author
Furley Lumpkin is a successful leader in both IT and Telecommunications with more than twenty years' experience at internationally recognized healthcare institutions. In addition to his career in healthcare, Furley was an actor in numerous commercials and television shows. He is a strong advocate for the medical community resulting in outcomes that have increased both medical staff satisfaction and patient experience in the hospitals where he served.
Chris Carrington was born in Princeton, New Jersey, and attended Boston University. He moved to Los Angeles in 1990 and worked as an Emergency Medical Technician in the entertainment industry for more than eight years. He has worked with patients, doctors, and hospitals managing the mountains of paperwork required by the current healthcare system. He continues to work in the entertainment industry and is the owner of Teton Films, a documentary production company.
RoseDog Books is pleased to announce the publication of Healthcare: It Mostly Works ($15.00) ISBN: 978-1-4349-9628-2, casebound. For more information, please contact RoseDog Books, at 701 Smithfield Street, Pittsburgh, PA 15222. To place a book order or to learn important information about shipping prices, tax, and our return policy, please call (800) 834-1803.
# # #